Waikawae Tunnel, Awakino, New Plymouth, 14.04.2019
The next leg of our tour would take us southwards - in the direction we originally planned! Woohoo! We headed towards New Plymouth, calling in at the Waikawae Tunnel (I'd like to hear that in a Geordie accent please, Dad). This is a beach with a natural limestone tunnel leading to it. It's a cool structure but it's pretty damp. The beach itself is a peaceful, black sand beach with a vicious tide. We met some rather animated locals too who were supposedly fishing, though they seemed more interested in their second crate of beer (I'd imagine they only caught a hangover). A fine way to spend a Sunday afternoon but we did wonder who in their party would be driving them home up the winding mountain road....

We stayed the night in Awakino, which is basically a kiwi version of Margate from the looks of the campsite. It was old school but just what we needed (hot showers and a sofa!) and right on the beach. The sea looked inviting, if a little rip-tidey, so off we went for a refreshing swim/drown and then whipped up dinner with plenty of spicy cayenne pepper that largely offended the other campers.

The next day we arrived in New Plymouth, with surfing planned. New Plymouth is a nice coastal city, in the shadow of our new friend, Mount Taranaki. This imposing, snow-capped volcano, is visible from all sides of the city, and from the ocean for miles around. We could even see him from our campsite at Awakino!

Taranaki towers alone out on the western coast, dwarfing all other structures in sight. His story is one of suffering and solitude. It is said that after a dispute with Tongariro (another huge, volcanic mountain on the central plain) concerning the fair Pihanga (a lovely lady-mountain), Taranaki fled his home land, settling on the west coast of the island, tearing a great opening into the land in his wake. Tongariro healed the land, flooding the wound with his tears and forging the great Whanganui River. Why Taranaki fled in the first place is unclear since he is by far the bigger of the two mountains (2581m v 1978m) so surely could have beaten Tongariro in a (hypothetical) mountain fight? And surely Tongariro was pretty upset by his departure if he cried an entire river of tears? Maybe Pihanga just didn't like him. I suppose we'll never know, but I do quite enjoy the alpine version of "Eastenders".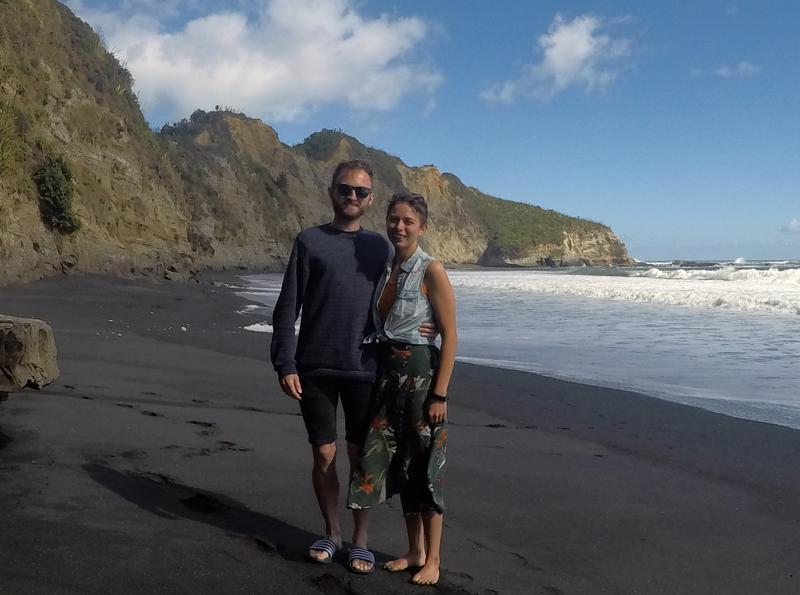 Distracted by the scenery, we realised it was Sunday and therefore we were slightly too late to be comfortable. Everything shuts really early here, particularly at the weekend which is rather unfair for us as every day is a Sunday really! So we had to hot-foot it to the surf shop to hire boards on time. The sea was just as violent as it had been the day before but we persisted and caught some waves. We had the GoPro with us this time so there's plenty evidence of my appalling technique... Must try harder.