Mission Bay, Auckland Sun Club, 05.10.2019
It's not often that a colleague invites you to a party at a nudist colony. Or is it? I don't know what happens in your life. Anyway - in my experience, it's rare, but it happened this one time. That one time is the subject of this entry.

A few weeks ago, I had a conversation with my colleague, Marielle, about her reasons for trading Amsterdam for Auckland. Aside from meeting a dapper Kiwi boy whilst studying (her now partner Chris), one of these reasons was that Amsterdam has become "too hipster". She then proceeded to tell me that it also gave her and Chris the opportunity to build their eco-friendly micro-home which now resides on a nudist colony. She finished this conversation with "anyway, do you want this quinoa? I've had enough..."

Given that we're living in a van for the majority of our time in New Zealand - we'd be well equipped to live in a micro-home at some stage. The only problem is, you need somewhere to put them. Marielle and Chris had this same problem so they put flyers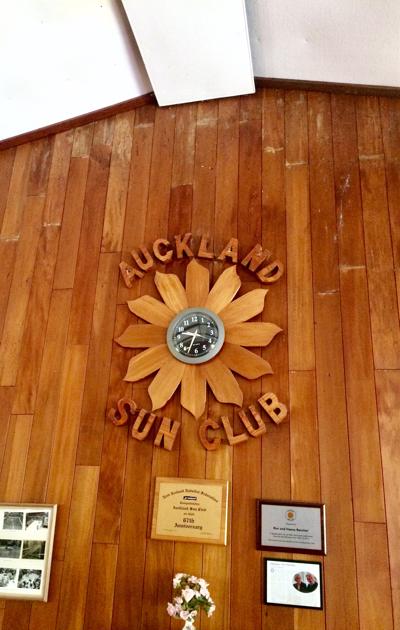 into hundreds of letterboxes in the Auckland area. Their saviours were a nudist colony in a remote West Auckland suburb.

Auckland Sun Club was established in the early 1930s(!) and heralds its continuing existence as a "great tribute to the few very courageous people who in those days were prepared to stand up for the freedom to practice social nudism"- quite! Having survived decades of social ostracism and petrol shortages in the Second World War (which made trips to the clubhouse extremely difficult), they once boasted over 70 members. Sadly this is now closer to 7 members, but with the complex still fully functional (hot-tub and swimming pool included), Auckland Sun Club still have plenty of bills to pay. As such they were happy to add a tiny residence to their garden, and to give the guys access to the clubhouse on non-nudie days.

As for the location, we know very little about West Auckland - except that the people who live there seem weird and wonderful to other Aucklanders. We currently reside in the very south of Auckland (just north of the border with Waikato) and have been spending most of our time commuting to and from the city centre, rather than exploring the wider county. Thankfully, the Ashworths have been watching "Westside"- a Comedy drama documenting the lives of "typical" West Aucklanders and set in the 1970s. The show's semi-eponymous family of petty criminals are headed up by Westie couple Rita and Ted West. Rita (the star of the show) is the stony-faced matriarch of this often blundering band of thieves, and the show revolves largely around suburban story lines laced with sex, drugs and rock 'n' roll. The whole drama is filmed in that doughy soft focus that Nigella's producers like so much. All in all, it 's probably a hybrid of Peaky Blinders and Desperate Housewives?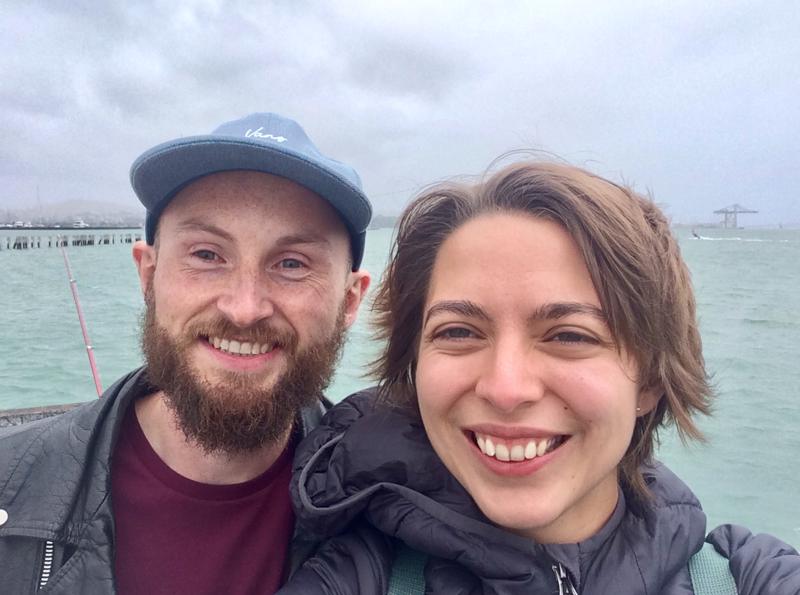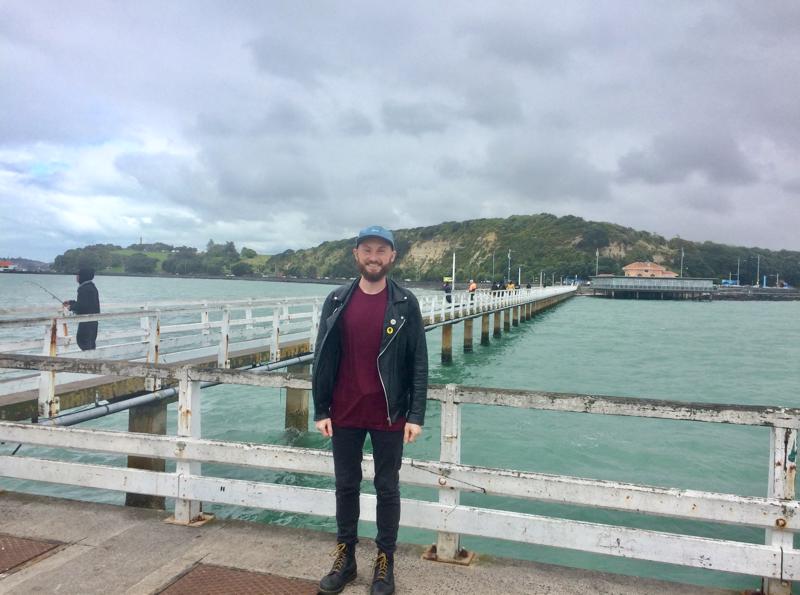 Safe to say we had high expectations for the party.

As the festivities didn't kick off until later in the afternoon we decided to make a day of it. We stopped by Mission Bay in Central Auckland on our drive up to the Sun Club. I'd seen this idyllic looking beach (just minutes from Auckland CBD) whilst going for a run and made a mental note that it'd be a nice place to hang out and maybe get some ice cream. Of course it rained sideways. Fortunately Jane saw the funny side and the blustery weather didn't stop us taking a wet stroll around the coast and out on the jetty, before stopping for a beer instead of the anticipated gelato.

After easing the van down a rollercoaster of a gravel road, we arrived at Chris and Marielle's place, and went to have a look around the micro residence. Their house is at least twice as big as our Nissan Vanette, and like a five star hotel in comparison with an incredibly
well designed compact kitchen/living room combo, mezzanine bedroom and eco-friendly toilet. The perfect living space for two!

The clubhouse is perhaps less aesthetically pleasing but a perfect function room kitted out with dusty (yet comfy) armchairs, a sound system, and a big open fire. The decor is a bit "cabin in the woods" but not like a horror movie, (except a bit like a horror movie where the toilet are in the basement and they store a load of menacing looking inflatables under the stairs) sprinkled with numerous old pictures of nude people turned slightly away from the camera. Exceedingly tasteful - aside from the odd cheeky protrusion here and there! The rest of the complex is comprised of a terrace with barbecue facilities, a small camping and games area, and (of course) hot tub and swimming pool, perfect for naked frolicking galore.

Chris had opted for a clothes on birthday BBQ at the Sun Club to celebrate his 30th year. The crowd consisted mostly of the birthday boy's friends, family and (most notably) work colleagues. This is a team of digitally savvy farmers who have invented technology to keep cows in a certain place without the need for physical fences. I can't remember the name of the company but let's call it Milky Manipulation. The milk manipulators (band name) were a fun, nerdy bunch and we naturally came up with multiple business ideas, including one to steal a number of babies and socially condition them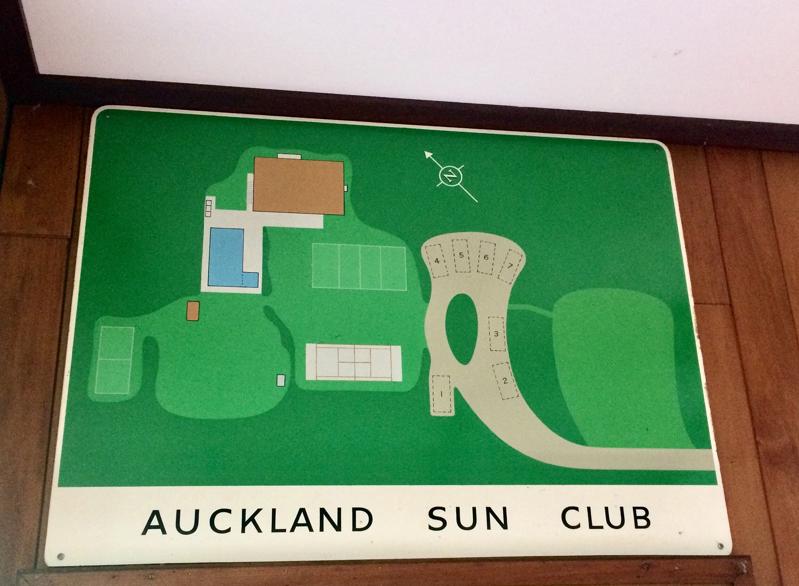 (in international waters) to be really good at doing flips on a BMX. Ethical!

There were also numerous people from my extended NZTE team, who are equally eccentric, including my colleague Nick who insisted on planning out a full-scale fight with a really, really tiny dog. The night continued with a small group of (basically) frat boys drinking some unspeakable concoction out of a plastic flamingo, and reached it's weird pinnacle when someone decided to put on a huge (terrifying) panda costume which antagonised the aforementioned small dog into a small psychotic episode. Nick subsequently backed down from the fight.

After a steady session of day drinking, failed business ideas, power ballads and merriment, the night drew to a close in the small hours of the morning. Amongst the last ones standing, our band of weekend warriors cosied up by the club house fire and raised a nightcap to the newly 30 year old Chris and the weird wonders of West Auckland.