Create your own recipe book
Is your kitchen full of magazine clippings and notes full of recipes? Or do you keep all your recipes for your favorite dishes in your head, so that no one else can prepare them? With our Travel Diaries diary software, you can quickly and easily create a digital recipe book. Collect all your favorite recipes, for yourself and for future generations. Fill your cookbook with recipes, photos, and stories associated with those dishes. Choose to have your book printed as a book with soft- or hardcover, as a gift for yourself or others. You can also choose to make your recipe book available online to inspire others.
Get started right away with your first recipe book >

Making a cookbook: some creative ideas
Still unsure of what exactly you want to put in your personal recipe book? We are happy to help you with these inspiring ideas:
• Collect all family recipes and put them together with (family) photos for future generations.
• Ask your friends to send you their favorite recipes and create a collaborative cookbook that you share online and offline.
• Dream away from old holiday memories and find the recipes for your favorite meals from these great holidays. Look for nice holiday photos to reminisce to make you feel like you are back on holiday!
• Give a cookbook as a gift to someone with recipes specially selected for him or her.
• Is there a distant country where you have always wanted to go on holiday, but it hasn't come to that point yet? Search the internet and cookbooks for local recipes and collect them in an inspiring cookbook to dream away.
• Create a digital recipe book where you can keep adding new recipes and share them with friends. Being a food blogger has never been easier.
Tip: give a recipe book as a gift for the holidays>
This is how you make your own recipe book
With our diary app - suitable for computers, tablets, and smartphones - you can easily create your own recipe book. Follow the following simple steps, and you will have your own beautiful cookbook in your hands in no time.
1. Create an account
Create an account with Travel Diaries and start your career as a cookbook writer right away. Travel Diaries originally started as a web editor for creating, sharing, and printing travel diaries, but grew into a diary app for creating any type of personalized book, including cookbooks and recipe books. The web editor can be used online, on any computer and tablet. Do you prefer to work on your smartphone? Then download the app for iOS or Android. You can switch between your different devices at any time, so you can work on your cookbook anytime, anywhere.
2. Fill your book with recipes
The software resembles a recipe fill-in book: first add the title, ingredient list, and description per recipe as a new chapter and then choose from the 38 layouts. You can drag these to the correct pages and fill them with photos of your favorite recipes. If necessary, alternate the recipes with funny or moving stories and photos about your favorite recipes that make your mouth water. Between the text and photos, you can leave space by adding an 'empty box', so that later - when you have the book printed - you can paste clippings, pictures, or recipes into it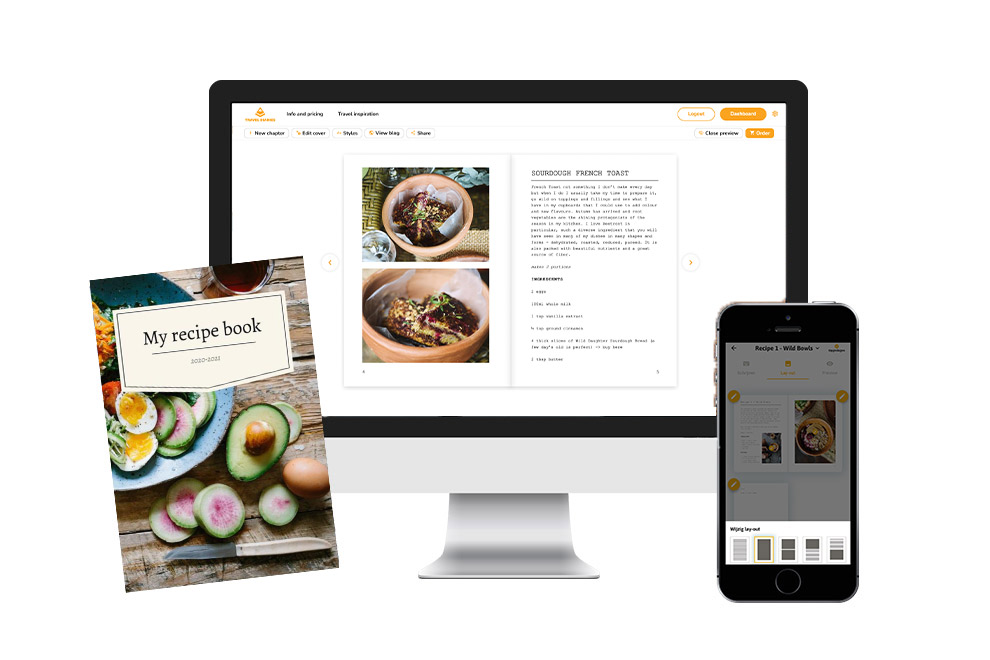 3. Order your recipe book or share it online
Is your own recipe book completely ready? Add a nice cover photo and read your personal cookbook one last time. Is it completely to your liking? For €23.40 you can order a softcover cookbook of 24 pages as a real printed book. Do you have hundreds of recipes? Travel Diaries prints books up to 298 pages, with a choice of sizes and cover types - view all prices of printed books. You can also share your recipe book as a digital cookbook with your friends and family or share it as a food blog with other internet users.
Tip: Create a travel journal or baby book
You can of course also use the photo book software to record other memories. For example, collect your best travel stories and photos in a travel diary, record your pregnancy in a pregnancy diary, or make a baby book in which you record all those wonderful first moments of your child with Baby Diaries. The Travel Diaries diary app is for all adventures, moments, and stories that are worth recording, to never forget these beautiful memories.