Your pregnancy is a unique experience in your life. That is why we want you to be able to capture this unique experience in a pregnancy diary. Keep track of how your belly grows, how you dream about your little one in your arms, and how it felt when you first felt the baby kick. Is your baby already born? Then start by creating your baby book to always be able to review the special moments from your baby's life both in physical form and online in the app.
Start your first pregnancy diary or baby book now >
Capture your pregnancy in a baby book
What do you think your baby will look like? And when did you first feel your child kick? The moment you discover that you are pregnant then a new phase of life begins. Over the course of nine months, the little one in your tummy grows from a tiny dot to a baby with all the trimmings, and you will start to notice changes in the way you look and feel. Therefore, capture your experiences in a pregnancy diary or nine-month book. This way you can later reminisce back to this special time.
For this you have come to the right place at Travel Diaries, the best tool to make a diary: in the online editor, suitable for computers, tablets, and smartphones, you can keep a pregnancy diary full of stories and photos in a fun and easy way, allowing you to order it as a printed book at a later date. By leaving empty boxes in your diary, you leave space to stick beautiful memories in later, such as the admissions bracelet from the hospital.
Pregnancy diary or baby book app
Download the free Travel Diaries app for iOS or Android on your phone or start in the web editor on your computer and start writing down your experiences as early as possible. Plan fixed times during the day or week where you can put your experiences and thoughts down on paper. You can switch between devices at any time and browse through your online baby book at any time.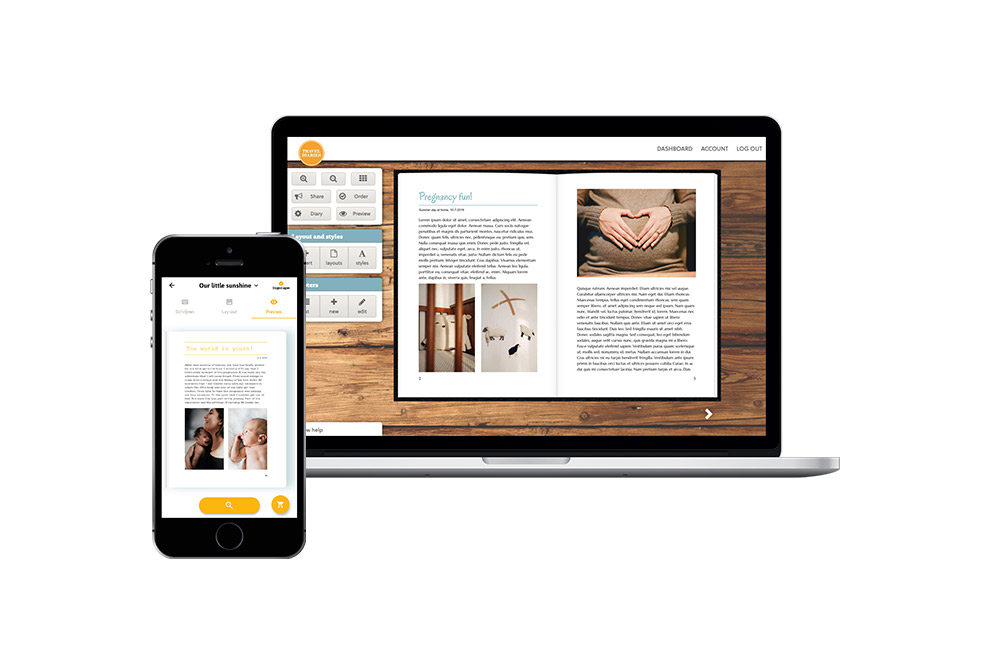 Tips for making your pregnancy diary
• Start your pregnancy diary, or nine-month book, with a photo of your positive test, and keep a record of all the special moments that follow.
• Take a picture of your pregnant belly every week, wearing the same clothes and standing in the same place. After the delivery, take a similar photo with your baby in front of your stomach, and merge the photos into a timeline in your photo book.
• Don't forget to take pictures of everything around your pregnancy. Were you covered in paint while preparing the nursery? How did your (mother-in-law) look when she heard that she was going to be a grandmother?
• Write about any special reactions you get from your environment.
• Keep all the nice cards you receive and stick them in the appropriate "empty boxes" after printing your photo album.
First-Year Baby Diary: Make a baby book
And of course, after your baby is born, you can continue capturing beautiful memories by starting a baby diary of the first year. How did the delivery go? What did you think when you saw your baby for the first time? How did Grandma react when she finally heard her grandchild's name? What was it like taking your baby home for the first time? What were his or her first words? Those are the moments that you have to capture so that they don't disappear into oblivion.
In the free diary app from Travel Diaries for iOS or Android you can easily keep a baby book from birth. Take photos during the day and create a regular writing moment for yourself. For example, write weekly before going to bed with a cup of tea, during your baby's afternoon nap, or - for the true multitasker - during feeding. After a while, it becomes a habit and even a necessity later on. You will find that there are many moments that are so precious that you cannot let them slip from your hands. You can capture them in words and images in your online baby book or baby diary, which you can have printed afterward once completed. This way, you can always think back to a time that passed by in the blink of an eye.
Start a first year baby diary >
Inspiration for your baby book or baby diary first year
• Take a picture of your child every week or every month from birth, in order to record his or her growth in your baby book.
• Collect all the photos of your child together with grandpa, grandma, or another family member and supplement them with the cutest, craziest, and most moving photos of your child. Write a sweet letter or nice story alongside it to create the perfect gift.
Tip: also give a baby photo album as a gift for Christmas.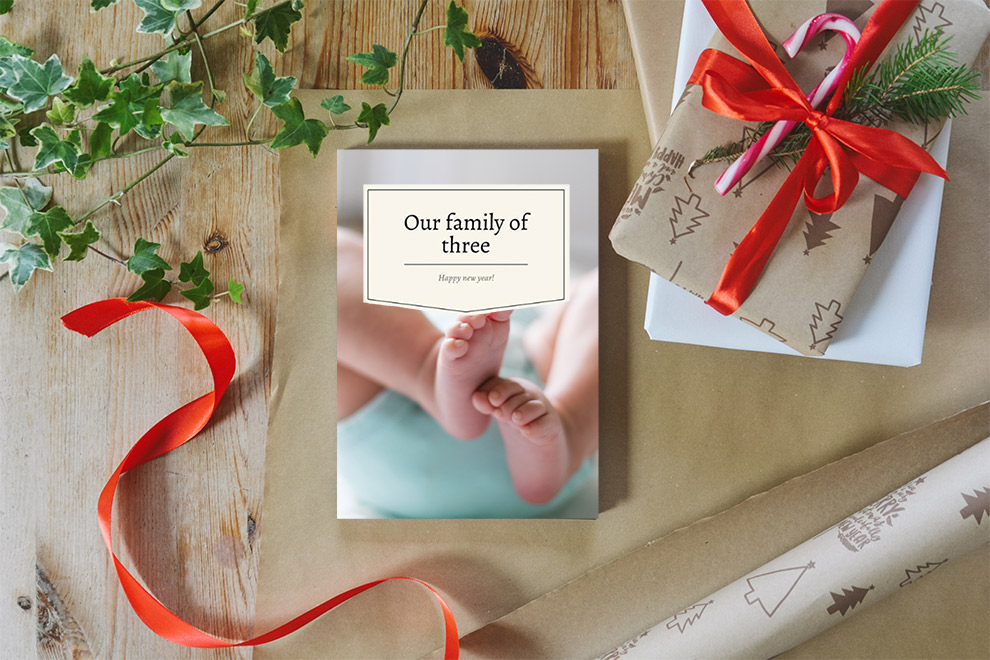 • Combine the photos of your child's first year with your vacation photos in a baby and travel diary.
• In addition to the photos of your baby, place photos of your parents at the same age in your baby book. Which features or expressions are most similar to yours?
• Keep all nice cards, any wristbands from the hospital, and the documents from the clinic. In the Travel Diaries diary software on your computer and in the app, you can insert "empty boxes" where you can stick all these nice keepsakes later.
How do you make a pregnancy diary or baby book?
1. Create an account for your online diary
Start by creating a free account and you can get started right away with your first online pregnancy diary or baby book. Download the free Travel Diaries app for iOS or Android, so that you always have your online diary at hand. Think of a good title for your book and start the first chapter right away. It is possible to keep your pregnancy diary or baby book to yourself, but you can also share each chapter with friends and family as an online diary so that they can experience this special time with you.
2. Write down the stories of your pregnancy and your baby
Writing all the texts for an entire book at once is a lot of work. Therefore, schedule regular writing moments now, for example when you wait for the kettle or when your baby is quietly lying in bed. Writing quickly will then become a habit and in between, you can open your online baby book more and more often to add moving moments. As we store your photos and stories securely in the cloud, you never have to worry about losing them.
3. Choose the style for your pregnancy diary or baby album
The unique thing about the Travel Diaries diary software is that you can design everything yourself. Choose from over fifty different layouts and numerous fonts and style options for your baby book. The title, date and location display, and body text all have their own formatting options, so you can customize each part of the book. For example, choose a baby pink or baby blue title.
4. Add photos to your baby book
Collect the most beautiful photos with the texts in the baby album, and determine how largely they are displayed. Leave boxes empty by adding empty boxes to the baby book so that you can stick mementos such as pictures of the ultrasound, the hospital bracelet, and a birth announcement there later.


5. Order your pregnancy book or baby book as a printed book
If all those stories, images, and memories are in your online baby book, you naturally just want to be able to hold them in your hands and browse through them. With one click of a button, you can order a printed copy of your pregnancy book or baby book. From a minimum of 40 pages, you can have the memories printed for €35.85. Then, they are all together in one beautiful book with a hard or softcover.
Have you experienced more than what can fit on 40 pages? No problem, you can create your baby album with up to 320 pages. You choose the size of your book and you can order extra copies at a discount to give a personalized gift to your (in-laws) family. For €5.95 you will also receive your pregnancy diary or baby book as a PDF. This way, you can browse it quietly wherever you are and melt away with your babies' first days in this world.
Other types of diaries
Travel Diaries is suitable for making any type of diary. For example, it initially started due to the lack of good tools to record travel stories and therefore was created with room for longer stories, unlimited space for uploading photos, and being able to draw route maps yourself. Hence the name: Travel Diaries. Nowadays, the Travel Diaries software is no longer only used for travel diaries but instead for all the kinds of diaries and purposes that you can imagine: a pregnancy diary, baby books, recipe books, a way to record your life, and love stories, or a personal report of the most beautiful moments as a personalized book as a gift. Travel Diaries is for all the adventures worth recording! Start immediately >