Why you should make an online travel diary
Have you always wanted to keep a travel blog to share your fantastic adventures with the rest of the world? This can be done easily by using our software. All you have to do is add text and choose a style, then add photos and maps in our numerous layouts. This is how you can make a digital travel diary to be proud of. Even if you don't have a laptop with you when traveling, you can continue working on your diaries at any time thanks to our user-friendly app for iOS and Android.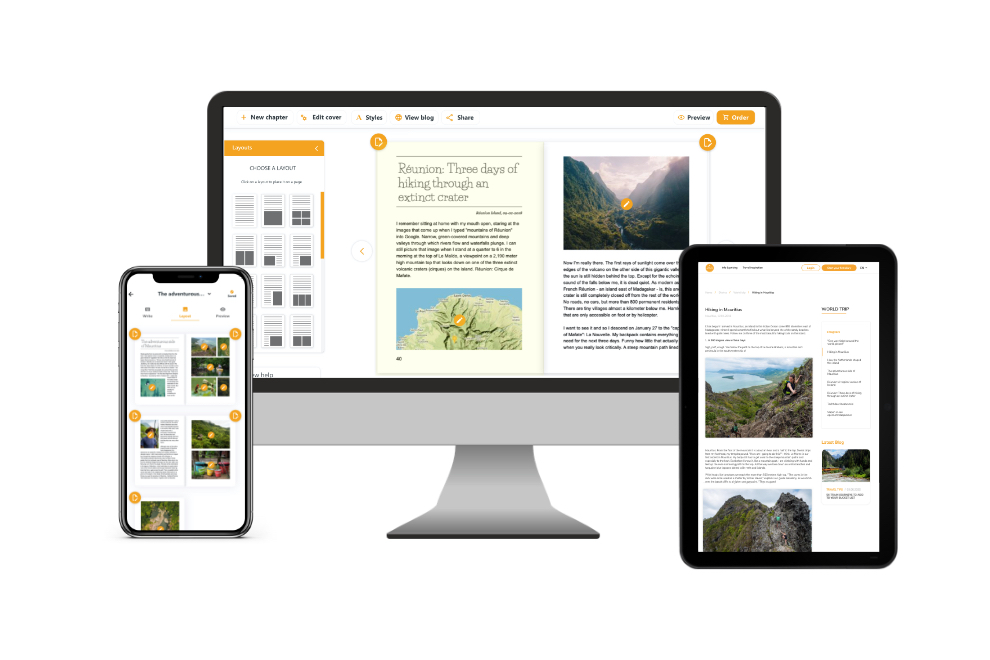 Unique to Travel Diaries is the ability to keep track of your route on a map, and the use of "empty boxes": empty spaces where you can later paste paper keepsakes in. At the end of your trip, you can have your travel diary printed into a beautifully designed book. On a drizzly winter day, curl up on the couch with a big cup of tea and your travel diary under a blanket, and relive your most beautiful, sunniest, and most adventurous travel moments.

Creative ideas for your travel diary
Make your travel diary extra special with the following tips:
• Collect tickets, receipts, maps, postcards, flyers, and other paper reminders along the way. Photograph them, or leave room in your travel journal to paste them in later.
• Bring pencils and paper and draw special buildings or views along the way.
• Draw or describe what you will take with you on your trip.
• You might sometimes forget it, but remember to also take photos of the people with whom you experience special moments along the way.
• (Legally) pick a plant and dry it between sheets of toilet paper in a book. Later, stick the dried plant in an "empty box" in your travel journal.
• Ask people with whom you have a special time to write a short note to you and stick it in your printed travel diary.
• Add recipes of your favourite dishes so that you can tickle your taste buds at home and relive your holiday moments. You can also make a combination of a photo diary and a recipe book from your travel diary.
Create your own (online) travel diary in four steps
On our website, you can create your own travel diary in four simple steps. Choose a style that you like and then you can go wild writing texts and uploading photos.
1. Create an account
Create an account with Travel Diaries and start your career as a travel blogger. You can work on your travel diary on any device. The online web editor works on every computer and tablet. Do you also find it useful to work on your diaries on your smartphone? Download the Travel Diaries app, which is available for both iOS and Android. Come up with a nice title for your travel diary and decide per chapter whether you want to share it. When you share your travel diary, we convert each chapter into a blog page, which you can share with friends and family. You can also choose to only put certain chapters online.
2. Add all the information about your trip
Add a map of your travel route, marking all the places you have visited along the way. Upload your best photos and write your experiences along the way per chapter. With the Travel Diaries app, for iOS and Android, you can easily add photos and stories on the go, so that you don't forget anything and don't have to spend hours at the computer to type everything out when you get home. For example, write down the best memories of that day every night before going to sleep, and share them with your friends and family if your diary is public. Add unlimited stories, photos, and different maps in this digital diary.
3. Style your travel diary according to your own taste
With a choice of 38 different layouts and many fonts, you can create your travel diary in your own style. Choose from one of our standard styles or create your own style by choosing from different fonts and font sizes for your texts. You can even choose a colour for your title, and determine where the location and date should be displayed. When you have finished setting your style, click "save" and the style will be applied to your entire journal. Then it is time to further fill in your travel diary with texts, photos, cards, and empty boxes. Is your diary finished? Choose the best photo of your trip for the cover, and your travel diary is complete.
4. Have your travel diary printed
After your trip, you probably can't wait until you can reminisce with your travel diary in your hands. That is why we suggest having your diary printed. Prices start at €23.40 for a soft-cover book from 24 pages. Add as many extra pages as you need to tell your travel story: Travel Diaries prints diaries up to 298 pages. Then, choose the format and type of cover for your travel diary. Did you travel with other people? Then you can order an extra copy of your book with a nice discount and give this photo album as a gift. Do you also want to keep your diary digitally? Order a PDF of your travel diary for only €5.95. This way you can forward it to anyone you would like to share your adventures with, and browse through your beautiful book on your phone, computer, or tablet.
Baby book, recipe book, or your life story on paper
Tip: Travel Diaries can also be used perfectly for other types of books. Record your life story in a diary, create a recipe book with your favourite family recipes, or what about a pregnancy diary from the beginning of your pregnancy to the birth of your baby with our new label Baby Diaries? After that, you can continue working on a baby journal, in which you record all the special first moments of your child.