The Ashworths', Waiuku, 14.07.2019
Whilst we're having plenty of new experiences here in New Zealand, I thought it'd be an awfully good idea to partake in some intense manual labour. As we've both got office jobs for the very temporary time being, we thought this would have to wait.

On the contrary! As Rose and Chris are about to have a baby, we all need to chip in to build an extension on their house. It's essentially a converted garage but everything is pretty spacious out here so it's been perfect for them for a couple of years. Those of us who aren't building are "helping out" with naming suggestions. That extra space will be required when little baby Zlatan Heineken Ashworth arrives...

"When does the baby arrive?" I hear you ask. I can tell you that at the time of writing it's exactly 8 weeks to the day (7th September). Now, I'm no expert on how long it takes to put up in a house, but there were two birds who spent six months building a nest in the gutter outside my window when I was a kid ( I think they're still doing it actually...). Extrapolating this to human size I'm still none the wiser but we've given ourselves approximately 10 weeks to achieve this feat.

When I say 10 weeks, what I mean is, we all have full time jobs and it's the middle of winter so it consistently rains 5 to 7 days per week (and at least one day on the weekend). So by my maths that's approximately 10 days to build the frame, do the roofing, add the facade, insulate the place, plaster, install the windows, paint the walls, lay the carpet... and so on. Bearing in mind the foundations were dug last summer (think a few long weekends of cricket got in the way) we've left it late. Fortunately, Kiwis are famously laid back, and everyone seems totally relaxed about this. Personally I can't think of anything worse than trying to cope with a newborn baby on a building site. I guess we'd better get started!

Day 1 (of the build) - Stephen had already dug out and marked up the site before my involvement so this goes from my personal day 1 - foundations day!

Setting the foundations for the extension took place on the Thursday before I started work at the Council. Well timed as I certainly needed a rest on Friday! Essentially Stephen directed everything, as he does, whilst he, Chris, Kirsty and I shovelled the wet concrete into an even plane. Or that was the plan anyway...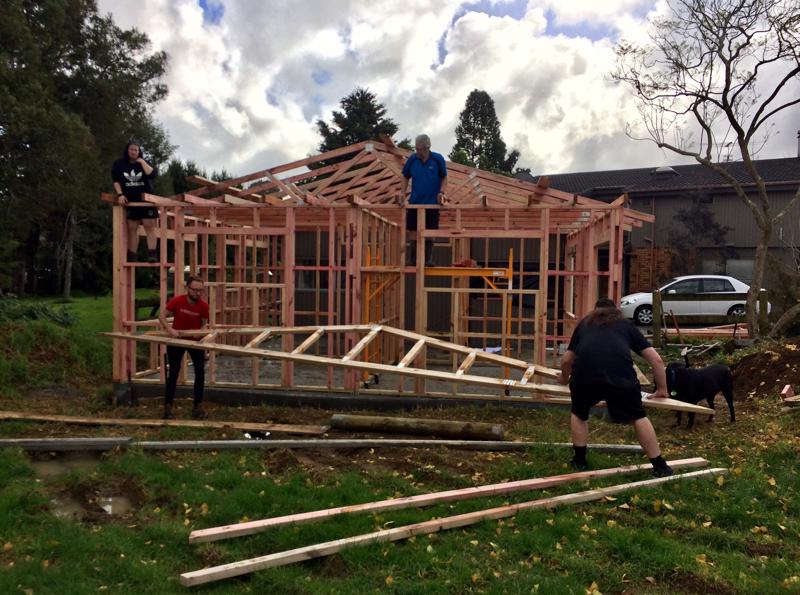 The first concrete mixer got stuck in the mud, following some rather heavy rainfall. Helpfully our neighbour happens to have a rather large tractor and made short work of tugging it out, leaving huge chasms in the turf - unfit for the next delivery. The upshot of this gaffe was that we had to accept two further deliveries at the one corner of the property that meets the road. This doubled the amount of digging required and left us working until the light ran out to finish screening off the rapidly drying concrete. I think even the most optimistic assessor would decree that this floor "could be flatter". I'm sure there are some idioms about solid foundations but I'm sure as hell not about to remember them now!

Day 2 - The second major day involved getting up all of the pre-built timber frames for the property. I wouldn't say that houses here are built to fall down, but given the amount of seismic activity, it's reasonable to rely on cheaper, more flexible materials than we might back at home. As a result, the timber frames have "a bit of give" in them - meaning that some areas look slightly unfinished. As there was a vast amount of lifting to do, Lynda had expanded our crew, roping in Anthony and a few family friends, including Dan (a professional builder!), on the promise of some beers and a "Pot luck" meal. This lightened the load somewhat, especially as Jane is struggling with her repetitive strain at the moment. She helped with the domestic chores, and prepared a tasty Spanish tortilla (our "Pot Luck" offering) which was much appreciated after a hard days lifting!

We stopped for the evening once all the frames were up, for the three additional rooms, and the roof trusses were held together with some temporary bracing.

It was at this point Rose noticed that the rooms perhaps weren't quite as big as she had envisioned. Comments about struggling to fit furniture into Baby Ashworth's room and a Queen sized bed into the second bedroom started to surface. These were quickly met with replies such as " babies don't need furniture" and " it's only the spare room anyway, who cares?". Hours of meticulous planning and hard graft had gone into the extension and it wasn't about to be scuppered by such unreasonable demands...

Back in the Shed, (the Ashworths' homemade sports bar and pool lounge), food and beer was as ample as the aches and pains, and party atmosphere soon took over from any disquiet - happy days!

Day 3 - Just Stephen and I were around for the start of the third day of construction and we were starting to realise how challenging plans are when only displayed from one angle. The entire first half of the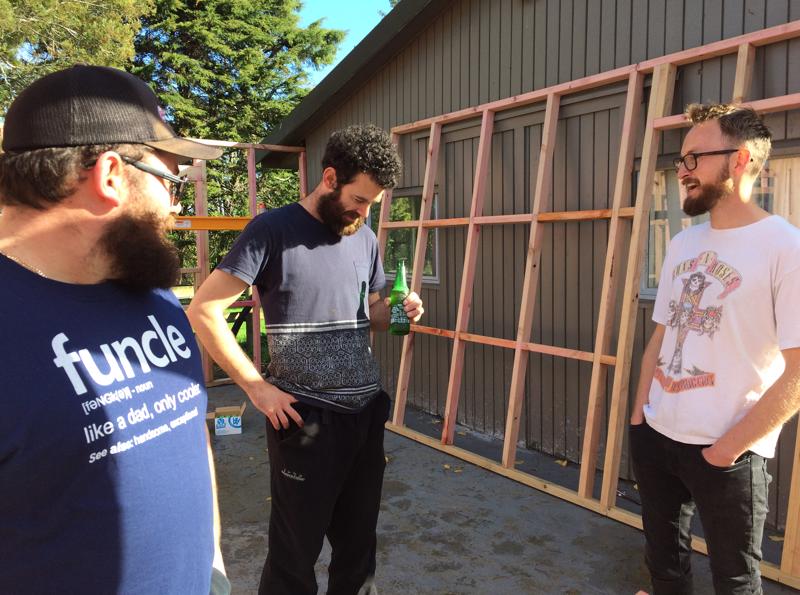 day was spent laying things out, agreeing on their placement, putting them up, disagreeing on their placement, then pulling them all back down again.

So we called Dan. Dan (who has actually built a house before) turned out to be pretty useful when building this particular house. He showed us what needed doing just as Anthony and Kirsty were available to help (glory hunters) and we finally got the final roof truss and bracing up. Eventually, a very worthwhile day!

So, a progress update: the foundations and framing are complete but nothing else at all. Remember that big long list of building work at the beginning of this entry? You may well chuckle! Fortunately there IS a Plan B. Anthony has gracefully offered to switch rooms and live in the temporary building site once Baby A arrives (give that man an "Uncle of the Year" award!), so it looks like we'll have slightly more time to get everything finished. Luckily babies are really easy to handle and fit right into your daily routine! I just hope that we're done before Christmas as Lynda and Stephen are expecting a humble party of 25 for the festivities. Who's worried? I'm not worried...