Waitangi Falls & Auckland, 26.03.2019
We've been staying with Jane's family since we arrived in New Zealand and they've been fantastic. It's pretty crazy to think that Jane hadn't seen Stephen since she was 10 months old and his entire family have welcomed us in as if we've known each other forever. This chapter is about the places near their home.

Waiuku itself is a nice town, with businesses, banks and bakeries -according to their information boards. (We'd considered it relatively small, but this was proved wrong once we got on the road, Waiuku is practically a city). There's a waterfall nearby called Waitangi Falls. This is our favourite waterfall so far as you can swim under it and there's a lovely old tree at the top. Helpfully we met a nice couple who are photographers so we've got this bit documented pretty well for a change. The natural water in New Zealand is freezing but leaves your skin feeling as good as new. Worth all the teeth-chattering!

The next venture was to Auckland. Laura and Rich moved here just before us, and were kind enough to invite us to their housewarming. Most of the people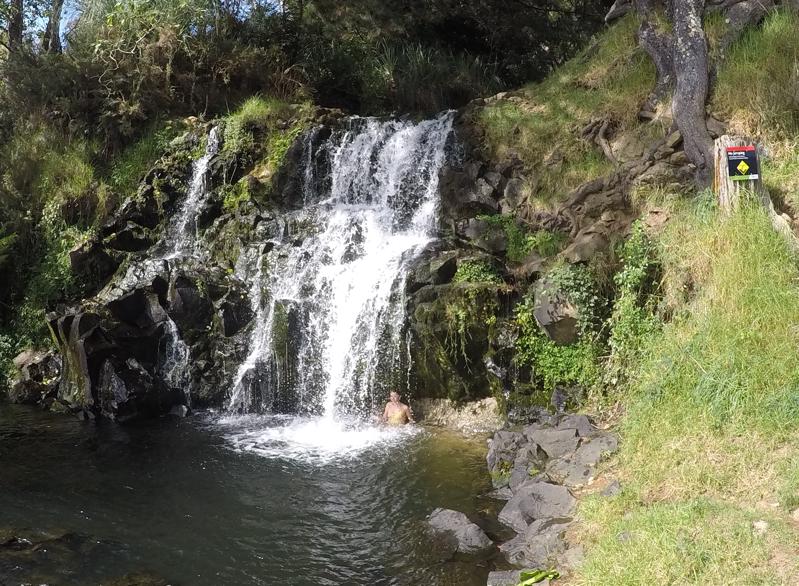 we met were from within 5 miles of Jane's birthplace so we felt very at home, in fact, she even went to the same school as one of the guests. Lots of the conversation surrounded if sea snakes are actually snakes or just fish, for some reason. That reason is probably beer. What took us by surprise was the lack of understanding of what we are actually doing here in NZ. Most people couldn't quite fathom why we weren't looking for work, so we've decided the easiest way to explain this is to tell people we're retired, if only semi-permanently. This seems to stop the conversation and bemuse the questioner - and importantly, avoid any further mention of work.

The following day we strolled around the city and took in the sights. Auckland is a relatively new city, very different from the rich tapestry of European architecture, however it has its charms in the quaint park, harbour views and distinct regions/boroughs.

Here, it's important to remember Christchurch. On 15th March 2019, a terrorist murdered 50 people at prayer in a mosque in the city. The World was shocked, and us along with it. Unfortunately, we have not quite left behind the ills of Europe. What is different about New Zealand is the response to this disgusting act from a white male on the Muslim community. The country has come together to mourn and reaffirm Islam's place in this country. Instead of separatist politics and scape-goating there has been genuine compassion and understanding. This was highlighted by an anti-racism march we came across on our wandering around the capital. The gathering was small but the speakers poignant, and it was warming to see so many different kinds of people together acknowledging the same cause.

On a lighter note, we found a lovely spot for dinner at Le Vietnamese Kitchen and had some incredible food. I'm drooling as I type and also wondering why it's French at the start and English at the end, with "Vietnamese" in the middle... The food was "pan-Asian" as they say. MULTICULTURALISM.