Waiheke Island, Auckland, 21.12.2019
I've recently discovered a website that tells you precisely where it is closest to 5 o'clock in the pm. The soul purpose of this site is to act as an enabler to people that like to use the phrase "it's 5 o'clock somewhere". I am one of these people.

This is particularly relevant when chronicling a day in which we simply got on a bus in order to drink wine. Waiheke is blessed with warmer average temperatures than the bulk of New Zealand and is usually 4 degrees hotter than the main city. This micro-climate, combined with daily rain in winter, is perfect for growing grapes.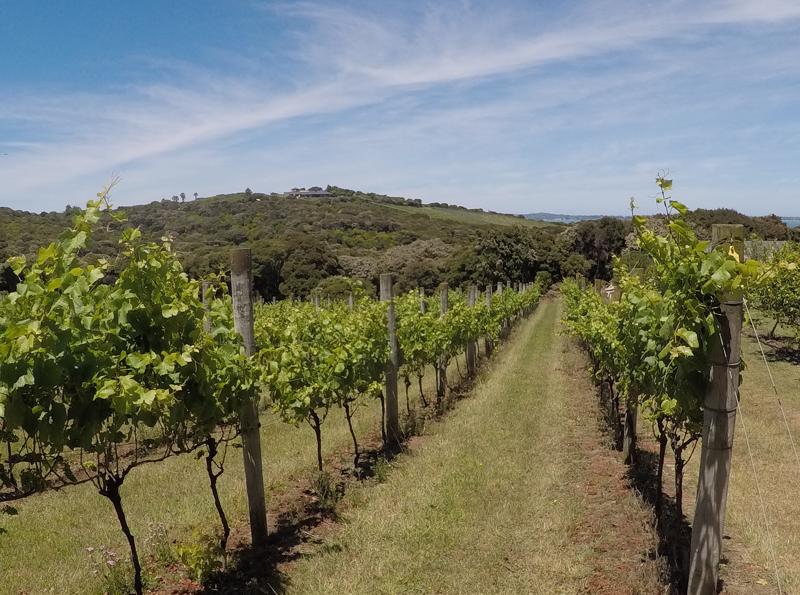 There are 32 vineyards on the island so it's unrealistic to try to get around them all. The permanent population is around 7,500, meaning that there is a winery for every 240 people.

The first place we visited was Mudbrick. My colleague Nick had mentioned this, stating that "it's the most beautiful place on the island", qualifying this with the statement "people get married there and stuff". It certainly is stunning!

The primary goal of our visit was to try some local wines, so we decided to sample both tasting selections and try a little of each, each. This was a great call as it meant that we got to compare Waiheke's tipples with their counterparts from other regions. In each case, Waiheke won the contest! Our favourite was the Pinot Gris, made from grapes harvested just behind the restaurant.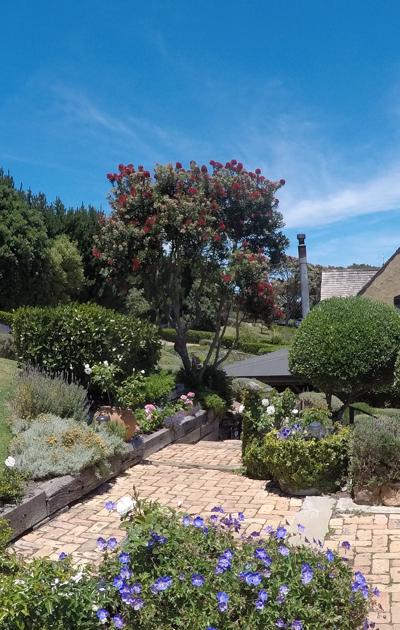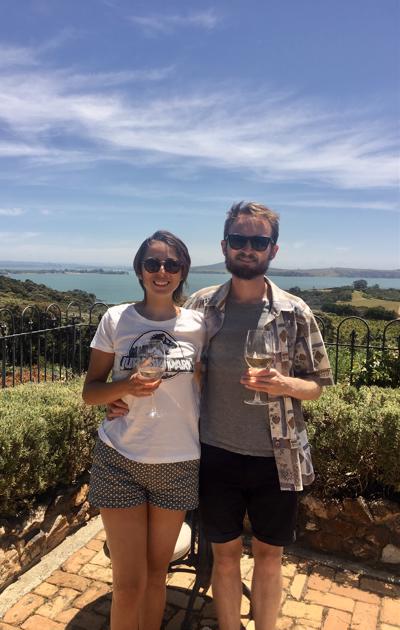 Drinking six glasses of wine, however miniature, makes you rather hungry so we made the rather indulgent decision to get food in the fanciest place we've been in a long while. I had the market fish, which was red snapper, served with courgette and barbecued corn. Jane opted for some home made gnocchi with asparagus, ricotta and pine nuts.

"You know it's fancy when they've used pine nuts" - Jane, 2019
"Some great eating" - Jane, 2019
"You need a quote from me? Nom, nom, nom." - Jane, (just now) 2019

Incidentally, the meal came with a Waiheke Pinot Gris, because we ordered one. It's pretty bold to have consumed this amount of wine before 2pm but I was confident that we could visit a few more places before the day came to an end.

We took the next bus and stopped at Wild on Waiheke en route to our final stop, the Batch. Wild on Waiheke is a brewery/vineyard that also does archery which seems horribly ill-advised! I'm not very accurate at the best of times - never mind after having a few drinks.

We'd been in the sun for a while so it was a refreshing change to head into the basement (essentially a cave) to collect our tasting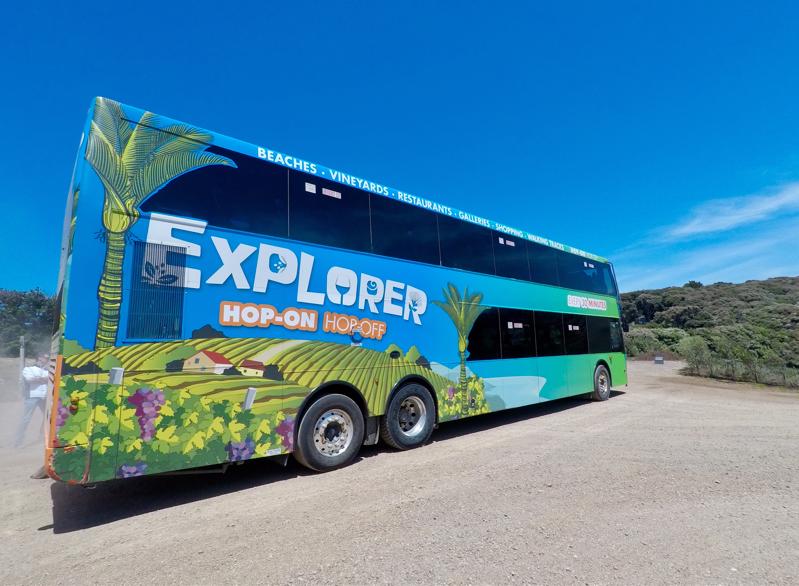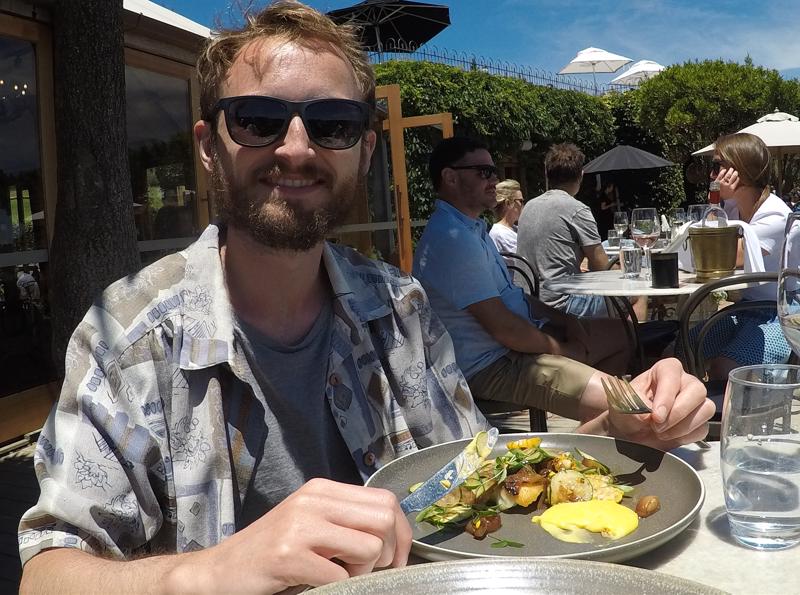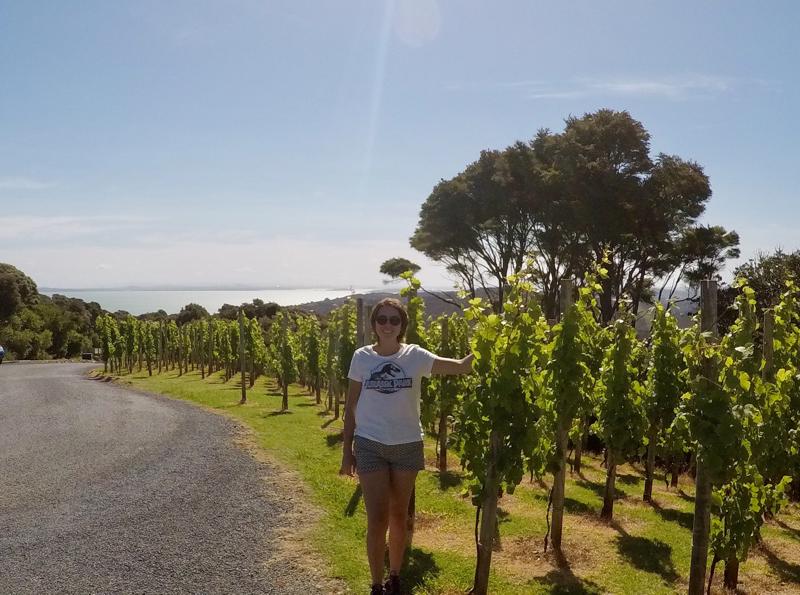 paddle of beers and ciders. To be honest, I wasn't totally enamored with the selection but the palate-cleansing ginger beer was appreciated!

Our next stop is the highest point on the island. The confusingly named, "The Batch at Thomas' Bach" (that's the correct spelling) has breathtaking views of the island, sea and city beyond. These views would be particularly breathtaking if you chose to walk to the pinnacle. The "gutless bus" that we were on the previous day had to have three bites at the cherry.

As with our previous stop, this didn't match up to Mudbrick in terms of quality of vino. We ordered a cheese platter though and it was actual cheese! A blue variant was particularly entertaining, so we left happy. A much more successful day than the previous one, and one I won't be forgetting in a hurry!