Taumarinui, Whanganui, 19.04.2019
The final stretch of The Forgotten Highway was complete in the morning, with a visit to Lauren's Lavender Farm for coffee and soap (we didn't eat the soap) before heading to Whanganui, via Taumarinui, the official end of The Forgotten Highway. I've got no idea what The Forgotten Highway was now. Hopefully I've written some kind of blog about it...

Taumarinui is a great place because you can shower there for $2 and it has a giant drift-wood sculpture of a Moa on the high street. They also had a local art exhibition on so we went for a look around. We wanted to make a donation to the gallery but had no cash until Jane found $5 on the floor. The gallery now has $5. We went for some snacks at the local domain (park) then drove down to the mouth of the Whanganui river - a town that bares the same name.

The "Wh" syllable is as frequent as it is confusing. Sometimes it's pronounced as it's written and other times it's like an "f". It's whlipping irritating.

Taking comfort in the easy pronunciation was the first thing that helped us warm to Whanganui. The second thing was a bit more surreal. We arrived there on Good Friday - a confusing day in NZ as it means nowhere serves alcohol without a substantial meal. In my hazy recollection of our times in the UK, I think perhaps we did drink a bit on bank holidays? Yes. Yes we did.

Ignoring this particular rule, we had a look around for a bar to chill in and were constantly refused service. Bemused, we had all but given up when we saw numerous bohemian-types (read "hipsters") smoking outside an old media building. For those familiar with Manchester - this looked just like Affleck's Palace from the outside and a similar vibe indoors with an odd assortment of items for sale and housing a few local businesses, including tattoo parlour and haberdashery. Naturally, we were invited into an art auction with free food and drinks. Where there's a will...

The building, now called Article, was once home to the Whanganui Chronicle - the longest running daily paper in New Zealand. It's now a daytime hangout for all sorts of artsy folk, young and old, serving deliciously strong coffee.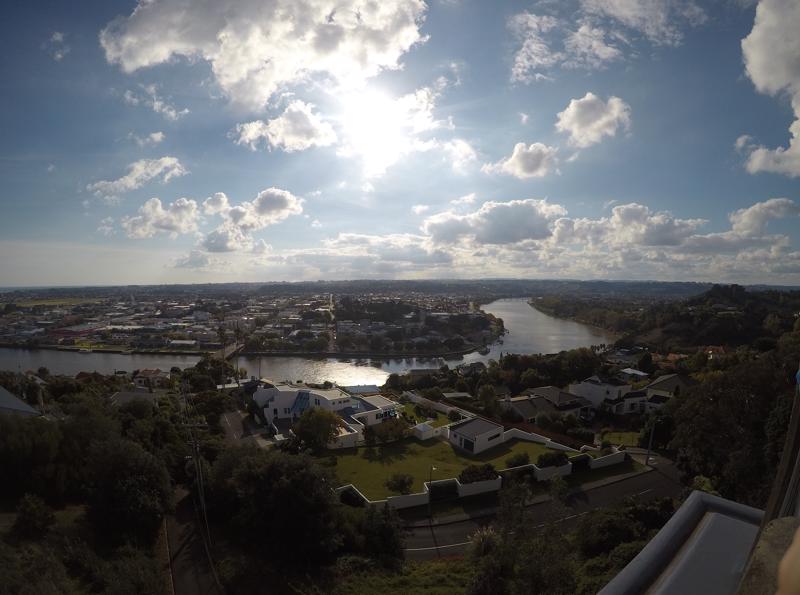 The auction was for numerous, brightly coloured blown-glass pieces, by an local artist who unexpectedly passed away. Funds were being raised for her daughter and grandkids and the community spirit was abundant - with some pieces selling for upwards of $6,000. It's a strange thing to be at an art auction for a casual drink. Essentially, it's just like drinking anywhere else but everyone is yelling and raising an arm will cost you thousands. It adds an extra element of risk to drinking that I'm not sure anyone asked for!