Hastings, Havelock North, Clifton, 03.05.2019
The next few days were spent enjoying the local area around Hastings, and we started by climbing Te Mata peak. The name translates as "the giant" because the mountains apparently represents a big guy laying down. The legend goes that Te Mata o Rongokako (the giant chief of a waring iwi) fell in love with the daughter of a local chief and was charged with a variety of tasks to prove his worthiness. One of the tasks was to bite a path through the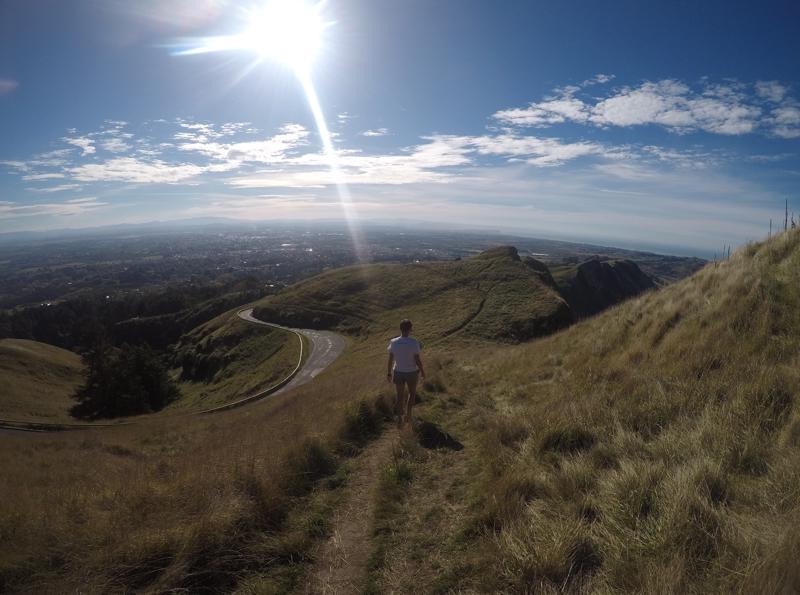 mountain to the sea, but he choked on a boulder and died, forever lying across the peak. I don't know about eating a mountain of dirt, but they do say a way to man's heart is through his stomach. The peak itself is only 399m but affords 360 views of Hastings and the towns along Hawkes Bay which is immensely scenic.

We then stopped in nearby Havelock North to sample some wine. Hawkes Bay is true wine country and has more vineyards than you can count. Overwhelmed, we decided to stick to what we know and sampled the local craft beer from Giant brewery instead.

Conversing with the locals, one American expat suggested that we climb "Bell Rock" whilst in the area. You know the rules by now, so we set off the next day for the hike.

Bell Rock is a limestone formation in the Te Haroto area, about 90 minutes north of Hastings. This area boasts an awesome landscape, with views of the Ruahine Ranges and Mount Ruapehu far in the distance. We noticed on the way up the 50km gravel road that we were very low on fuel. After some debate about travelling back to pick up fuel, we decided to perserve, agreeing to roll down the 971m hill to the petrol station after the trek. With shaken nerves, (on my part) we made it without the aid of our good friends at the AA.