Bridal Veil Falls, Kawhia, 11.04.2019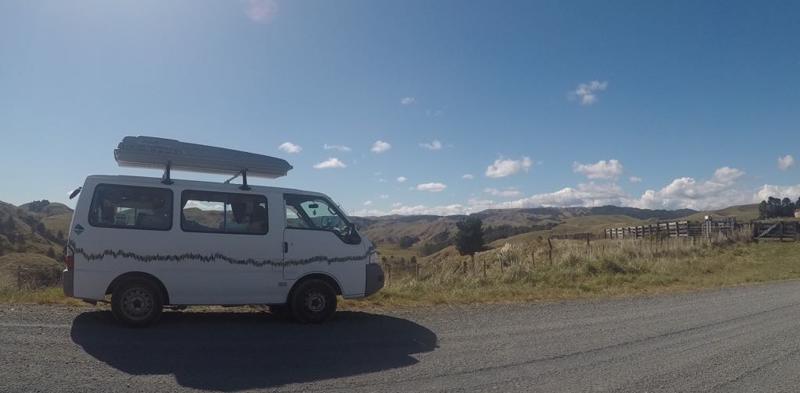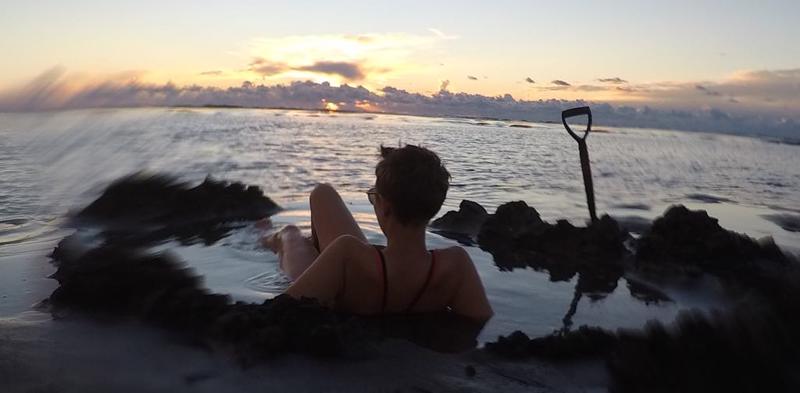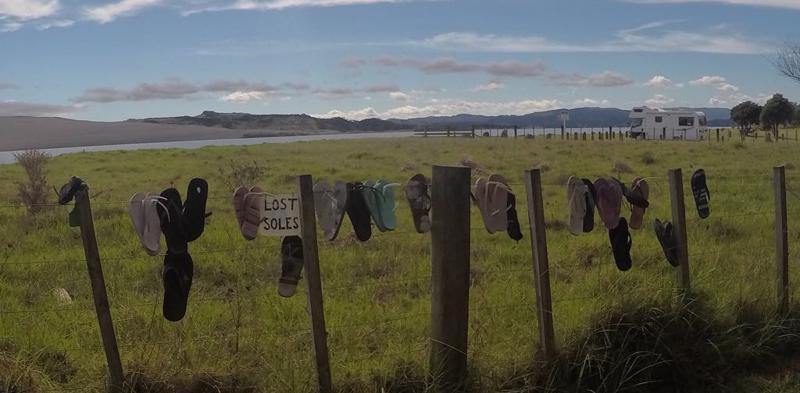 Jane cut her thumb whilst trying to open a beer (thanks to Mariya and Linda for providing the weaponry!) so we cancelled our plan to surf and traveled down to Kawhia for a more relaxed day, (for correct pronunciation think "Mafia" with a K). We went via Bridal Veil Falls which at 55 metres is the tallest in Waikato. Guess why it's called that? It looks like a bridal veil. It's all pretty literal around here. It's a cool waterfall, just a few minutes walk from the roadside.

Our route from the waterfall to Kawhia was slightly more eventful than we'd hoped. It's a 50km gravel track - perfect in a rally car but horrible in a 2004 Nissan Vanette. There are incredible views left and right and an abundance of wildlife, but the road has been seemingly been designed by a disobedient child.

Arriving slightly behind schedule, we stayed in a site ran by a guy called Grant who had a pet eel called Eel. I wish Grant's name was Guy. He gave us some spades and told us to head to Ocean Beach (super-literal) to dig our own natural spa.

This beach is hot stuff! There's a 50-degree spring under the sand and if you wait until low tide, you can dig down and find heaven- your own personal beach hot-tub. Everyone was very happy to team up against the assault from the frozen waves as the tubs need constant maintenance (digging) to keep their shape. We were rewarded with a beautiful sunset over the scenic beach. Would recommend!

The next morning we cleaned the van - twice. We had the misfortune of parking under a tree that was dropping litres of tasty sap onto our home. We left for drier climbs - the scenic reserve of Aotea. This is a walkway owned by a family, who have allowed the public to access certain areas. Black sand dunes are visible across the bay and the area is protected due to being a hotspot for rare birds and dolphins. It's a nice morning stroll.

Guy (Grant) had suggested that we go via Te Anga on our way down to Waitomo as the route is stunning. There are many limestone formations on the journey, including the Mangapohue natural bridge. We also called in at the Marakopa Falls to check out more H2O in descent. The road is exceptionally windy but fortunately tarmacked so we could progress a little faster than yesterday's madness.

We free camped at Roselands Restaurant - a huge, largely deserted complex that is probably some sort of money laundering operation but I've not yet figured out how. I nearly stood on a duck when I exited the van in the morning who, as far as I could see, was the only other creature to visit the restaurant besides the staff.

It's also become very apparent that our van (who remains un-named as of yet) is hilariously dwarfed by all other free campers in the area, even the other conversions. I wonder what it's like to actually be able to fit your possessions into your mobile home?