The Tui Brewery, Hastings, 02.05.2019
Having left Little Norway, we had a look online for things to do in the vicinity. The first suggestion was a brewery so we didn't look at the other suggestions.

The Tui Brewery is a rather strange place as it's a huge national brewery in a tiny little village. You can see the famous Tui Tower in all its art-deco splendour for miles around. There's an option to go on a guided tour and talk about how the beer is made but we arrived at the wrong time. Our response was to give ourselves a tour and discuss how the beer might be made.

People in New Zealand hate Tui, by and large. It's strange as the beer itself is quite nice. People talk about it like it's Carling but it's ok. The marketing however, leaves a little to be desired. All of their events centre around the scantily-clad "Tui Girls" and their ads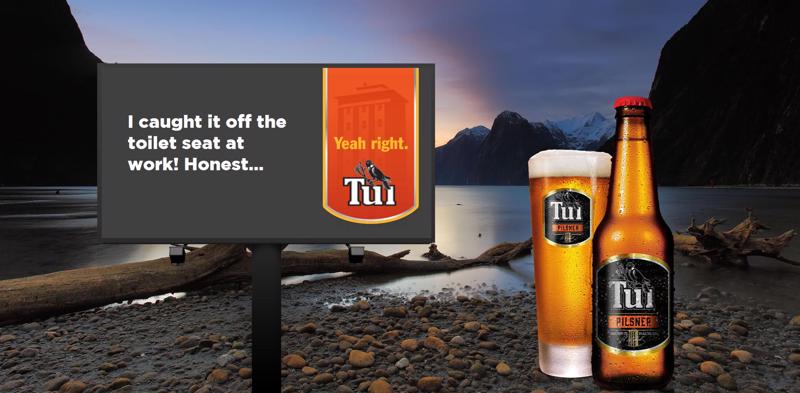 consist of 70's-style gems such as "Nah, Kate Middleton doesn't do it for me: Yeah right!".

We tried a couple of tasters of their brews then headed up to Hastings. This place claims to be an English style town, which basically means there are tons of roundabouts and familiar street names on every corner. We called in at a place called Common Room and struck up conversation with a couple of strays in the bar. One of our new companions was a local kiwi who had been stood up for a date that night, and our second drinking buddy was a graphic designer from Germany who was also touring the North island. Our motley crue chatted away over several hours/pints and half agreed to climbing a mountain the next morning. Then we went to sleep in a city centre carpark. That's life.

At 8am we received a surprising text from our Deutsch friend asking if we were ready for the climb. Some things, it seems, are universal. Tinder dates rarely end in success and Germans can be counted on to be much more punctual than they first claim.