Awakino, West Coast (North Island), 13.04.2019
As Lewis has been updating you all on how many fun adventures we've being having, (it's A LOT), I thought I'd add in a slice of reality and let you in on what it's actually like to live in a van.

Needs are reduced back to basics, where will I pee? Sleep? Wash? (Most of all wash...) A scouse bath becomes second to none, and surprisingly, the van remains positively fragrant despite the reduced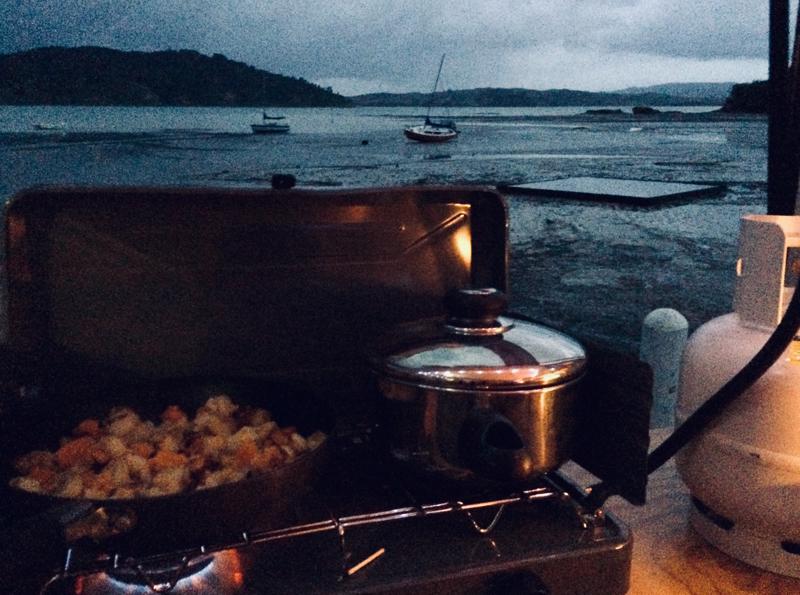 amount of full body scrubs. Though there can be an occasional pong from an overused flannel that indicates it's been a little too long between showers. Washing your hair becomes a thing of luxury, but it's amazing what a pair of sunglasses placed over your mop can do. Having short hair helps immensely.

Eatinge your cereal in pyjamas on a park bench is totally normal. People will stare at you in mild curiosity/disgust. You get used to it.

Cooking on the road can be difficult, and it's a big responsibility keeping on top of when the ice packs will thaw out. Being an experienced cook has its advantages in that you can adapt to minimal appliances/utensils/storage space, but you do wonder what feasts could be prepared if you had access to a fridge and a consistent gas ring. Though your kitchen maybe small, its also portable and often the stunning views make up for the lack of space. Luckily I've had the (mis)fortune to have only had small rooms to cook in for the most part and am well practiced in the art of kitchen Tetris.

Another challenge is getting things dry. Anywhere in the van can be a drying rack. I find that the dashboard is especially good for underwear, though if you're driving on a windy road, don't leave the window open or you may lose a pair...

Everything in your van will end up on the floor when you're driving, even if (you think) it's tied down.

The van community is surprisingly introverted and you will have to make an effort to talk to other travellers for the most part. We believe this is largely due to free campers not wanting to draw unnecessary attention as locals living in nice areas tend to resent you parking on their well-kept streets and dishevelling the quaint town. Certainly we've encountered disgruntled, as Lewis called them, "curtain twitchers" who will claim that you bought your self-contained sticker off the internet and will try to move you on.

You have to clean your house everyday, usually twice per day. Sand and mud get everywhere and it's just not practical to ban shoes in the van, though I have considered it...

We've been on the road for a couple of weeks now and, despite the challenges, I can say that I'm thoroughly enjoying van life. I've also learnt the following-

Things I miss:
A kettle- making tea in the morning takes far too long boiling water on the gas burner. Luckily I have been able to assign this job to Lewis as his tea addiction is greater than mine so he enjoys the daily frustration of watching the pot boil.

Clean towels- It's just not possible to keep your (one) bath towel fresh when your beach towel is still wet and sandy and you're washing in public bathrooms. I'm a fresh towel person.

Things I no longer need:
Shoes- for the most part. It's flip flops (or as the Kiwi's call them "jandals") all the way.

Hot water- for washing up and washing yourself. It's amazing how "clean" you can get things in icy cold water.