Auckland, Snow Planet, 17.06.2019
It's been a bit of a challenge working out what to do for Jane's birthday this year. This is, in part, due to the fact that she smashed it out the park on my birthday, with our first ever skiing trip - but only in part. The other challenges surround the fact that she is possibly about to land a job that could start at any time and the fact that she keeps rumbling me and my secret plans...

Anyway, after numerous attempts to come up with something original and surprising, I settled on a completely unique activity that has never before been carried out on a birthday - skiing!

Jane had an interview in the morning, then we went for a stroll up Onehunga, AKA "One Tree Hill". This is a volcanic cone that inexplicably has no trees on it whatsoever. We're told this hasn't always been the case. It was once home to the isthmus people's key pā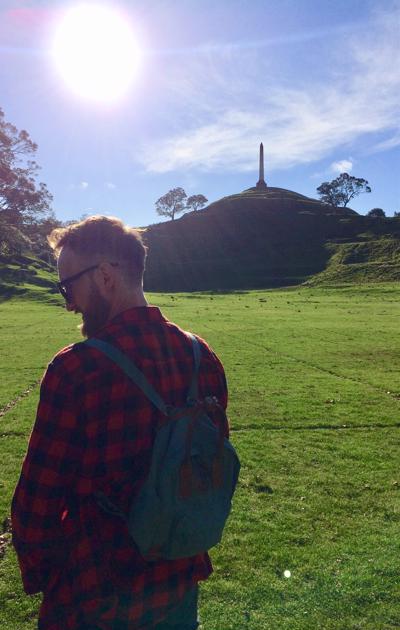 (defensive settlement) and was widely acknowledged as the greatest fortress in the country. Nowadays, it is mainly home to sheep and beautiful panoramic views of Auckland city. On a clear day you can see right out to the Manukau heads, out west.

After our stroll, we went for some tasty curry and beer. This is a brilliant combination that I've just invented. Enjoy trying this delectable and bourgeois food pairing. Then we headed to Snow Planet for our second go at falling down hills.

First impression of Snow Planet is that it should be called "Snow Garage". From the outside, that's exactly what you're getting. The second impression is that this false ski slope is surrounded by some very optimistic signage. These signs read "Don't ski beyond your level" and surround 8,000 square metres of snow, at a rather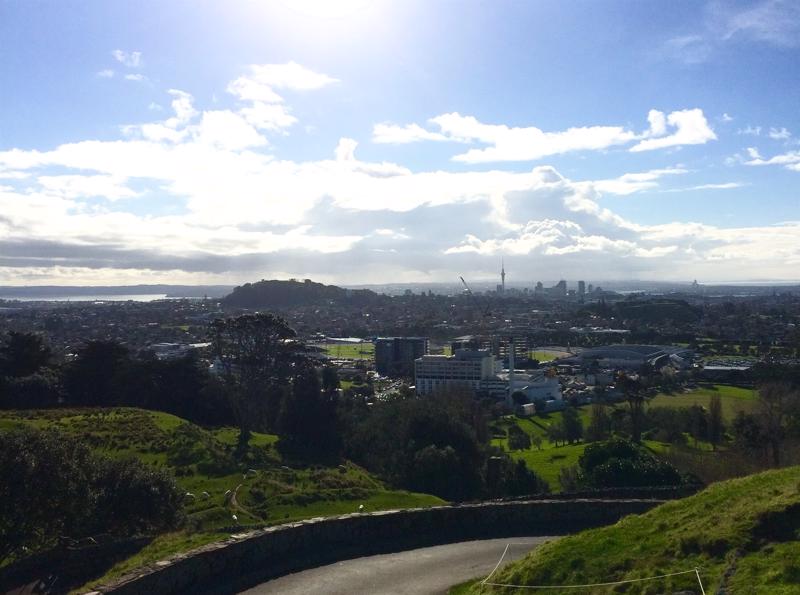 intimidating angle.

Not knowing what "our level" exactly means at this stage, we had to make a choice whether the slalom side was more or less intimidating than the side with a huge jump on it... but first, we had to get to the top.

Turns out, I found my level. My level is ground level. Like, right on the ground. I've never used a drag-lift before and no one has ever explained it. Seeing as it looks like a zip line, I decided to sit down. This is a terrible, horrible plan. After two very traumatic and embarrassing falls, I was just about ready to give up on skiing for good. Fortunately, like most things, this could all be fixed with a cup of tea. Whilst nursing my cup of British courage, I decided to google how to use a drag-lift. Jane found it somewhat bewildering that I'd fallen over but when asked, she had no idea how she "just knew" not to sit down. Instantly it made sense and we went back out for a hopefully less damaging attempt.

I did it! The main problem here was that by this stage I had completely forgotten what it was all for, and about half way up it suddenly dawned on me that a very scary descent was about to follow this lift... Jane chuckled that she'd never seen someone cling to something so tightly as I did to that lift, and I can quite believe it.

The skiing itself, was incredible. Once I'd gotten past my overwhelming nerves, (and made it down the first run without crashing into a heap at the bottom of the piste), I had a great time. I was very relieved that I hadn't ruined Jane's birthday with any more theatrical tumbles (actually, we both had our fair share, but didn't mind so much). The "snow" itself is more of a synthetic, sandy texture and is incredibly slippery. Great for speeding down the run, not so great if you accidentally lose one ski halfway down and can't work out how to stop. Note-if you find yourself in the situation and want to stop, try driving your ski-free foot into the ground. It won't be graceful.

They got rid of the slalom flags, which made life easier and we even did the jump! (Read "cautiously tipped over".) It's scary to think that this was day three of skiing and we've stepped it up so massively but we came here to take risks and drink tea - we're all out of tea!

We made it back very late that night totally shattered, so we settled down to dream of snow and our next adventure.