Waiheke Island, Auckland, 20.12.2019
Jane's former boss told her on her first meeting with him that the reason he moved to New Zealand from the United States was to live on Waiheke Island. Ever since, we've wondered what all the fuss is about...

Courtesy of a generous donation from my parents, we decided to travel to Waiheke just hours after I finished work at New Zealand Trade and Enterprise. As a result, I was fairly sleepy on the ferry ride over. The journey takes just 40 minutes (the ideal length of time to have a nap) and I was really drifting off at only 5pm.

Waiheke is the second largest island in the Hauraki Gulf of New Zealand, and the most populated by some margin. This doesn't mean it's all terraced housing and high-rise buildings however - the majority of the houses are very spacious, with wonderful views of the ocean.

With our heavy levels of fatigue in mind, we decided to get some pizza from Cafe Fenice (pronounced differently by every inhabitant of the island. Perhaps like Venice - who knows?!) and get an early night in the tiny studio flat we booked through Airbnb. Our host, Claire, was very nice and the studio is a functional bedroom with a fridge and plenty of tea. The only challenge here was the lack of access to fresh drinking water. It's a bit of a strange limitation to have as it's a basic human right but we made it work.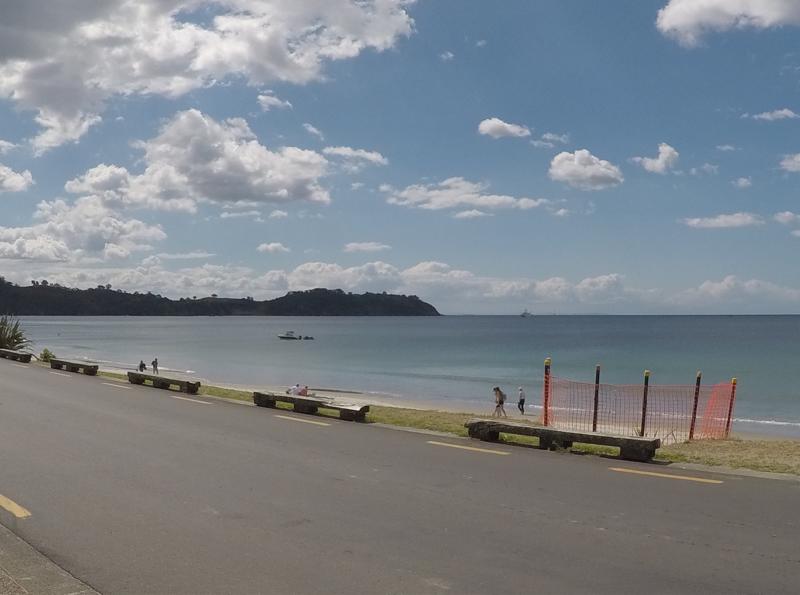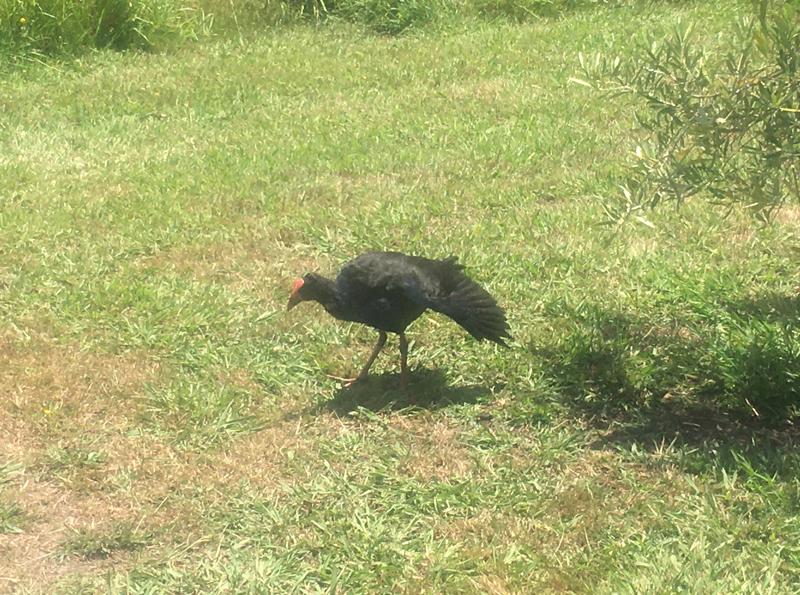 On Saturday morning, I woke up feeling much better (if a little dehydrated). Jane, on the other hand, was in a great deal of pain. She's been seeking plenty of advice from a team of specialists the size of a small country in order to get her ankle up to strength before our travels. She's had some good days (cataloged using an intricate system of smiley faces) and some bad days (written :( ) and today was a :( :( day.

We tried a small walk to the beach, through the little village of Oneroa. This translates to "long sun" which makes sense because "roa" means long and "one" means sun. They get a lot of sunshine here!

Our walk ended at the bus stop next to the beach as Jane's injury had taken a hold. The sand looked beautiful but the walk was too treacherous. In an effort to make the best of the day, I ran back to the cashpoint to get money for a taxi. We then headed over to Honey House Cafe and Totara Road Olive Grove. Inexplicably, the taxi cost $50 to travel 8km - which for those who aren't aware of the exchange rate, is an eye-watering rip-off.

We had a hot drink (despite the searing sun) and watched the pukekos looking for food. This bird is black with a beautiful blue hue under the wings. They are very raptor-esque and as a result, I've been finding their movement pretty fascinating. They're also known as the Australasian Swamphen. Sadly they are regarded as a pest and can be legally shot during duck hunting season.

Following this we took a taxi to "Charlie Farley's". I'd imagine his parents wish he'd gone with "Charles" and become an accountant but as it happens, he's running a pub on the waterfront and doing a roaring trade! I had fish and chips (with Caesar salad as a side?!) and Jane opted for a burrito bowl. Decent. We slowly worked our way through a bottle of Waiheke Chardonnay before hobbling down to the beach for a relax in the sun. My partner in crime decided to cover me in sand - which I'm still finding in my hair to this day - and we watched a Spanish couple constantly throw each other onto the beach trying to get an overly optimistic and athletic shot for Instagram.

We were allowed a free pass to the Explorer bus to get home, rather than having to shell out another $50. This was gratefully received, especially as we'd had a challenging day. Our conversation at Charlie's was mostly around how difficult things are to plan with Jane's injury. She's understandably sad and it's taking a toll but she's a strong puppy. The kindness of strangers (the bus driver and tour guide) can always lighten the mood.

When we got home, we watched Mrs Doubtfire before nap time. Christmas TV is the only thing that's making this feel like "the season" (except for the wine).