Te Kuiti, Otorohanga, Raglan, 10.04.2019
After our magical (terrifying) caving experience at Waitomo, we crashed in Te Kuiti for the night. We stayed under a statue of Sir Colin Mears. He was an international rugby player for NZ and a professional sheep shearer; perhaps the two most revered professions here. The statue is a 20-foot bronze cast of him holding a sheep like a rugby ball and giving it a rather aggressive mop-chop. Incredible scenes.

Rising with the sun, and keen to get back to the coast, we stopped at Otorohanga to do some laundry. Someone had left their purse, so we went to hand it in at the local Police Station. There were no Police Officers there, or in the entire town apparently, so we started to commit crimes. I refuse to write any more until my lawyer is present...

I don't have a lawyer because I live in a van and we sleep in various car parks, but you get the idea. A friendly local who was "mates with Andy the police officer" kindly offered to hand in the purse for us. Instead, we chose to drop it off in the next town - affectionately known as T.A (because no-one can spell it). The Police Station in T.A was complete with real-life human in uniform. We then sped back to Raglan (in relative terms) and wolfed down a sandwich at Manu Bay. This is where the pros surf. We watched for tips then headed to our lesson before Jane tried to open any more beers.

Surf instructors have, at some point, decided that surf lessons take place in a sports bar rather than on the beach, so that's where Eva showed us the ropes (or lack thereof. There are no ropes on a surfboard. There are rails but no ropes. Not sure why I mentioned ropes. Is this confusing?). A surf lesson is a basic yoga class, with some boards on the floor.

Dry-run complete, we ventured to Ngarunui beach for the real deal.
A few good things happened in our surf class: I caught the first wave and stood up immediately, which settled my nerves as the only person who had surfed before. Jane was a natural and even said "I wasn't that cold" which is praise indeed! To top it all, we each only hit the rocks (and each other) once or twice. That last bit sounds bad but I think the odds of collision were pretty high!

Anyway, it was a great as I remember it being. It's been ten years and nothing has changed. Still chaotic, still wiping-out every second wave but I loved it. Jane said "It's hard work but a lot of fun - definitely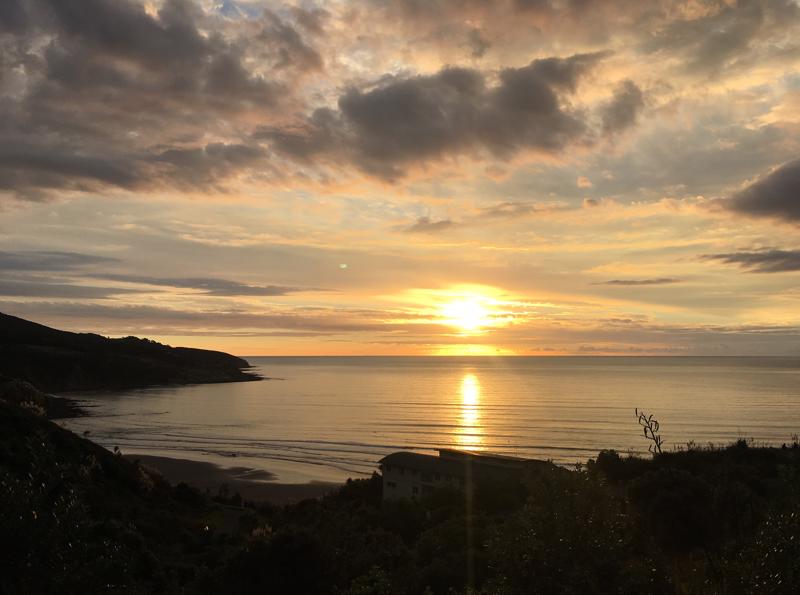 something you could get hooked on." Fingers crossed!

After surfing, we headed up to sunset point, just above the Ngarunui beach, to whip up some warming chilli- we've been here several times and it's definitely a contender for one of the most spectacular views so far!

There are some things that you will only learn from carrying all of your possessions in a confined space - and you learn these lessons hard. It becomes increasingly difficult to manage your stuff once it leaves the van, especially when its dark and/or raining. The worst time to realise that your camping table was under the van and your flip flops were resting on the roof is when you're bedding down for the night in the centre of town after a contented day of surfing in paradise. You may even attempt a pyjama-clad rescue mission to retrieve your poor table friend from the rain. You may fail.