Hastings, Napier, 05.05.2019
Following our icy dip at Clifton, we got back in the car and our post-Hastings era started post-haste (sorry). Napier is but a twenty minute drive away. We had a nosey around the art deco buildings, checked out the water front (which is actually populated here - a rarity in New Zealand, they even have a proper promenade!) and had some tiramisu gelato. We like Napier already. That evening, we made our way to Rose's parents' house. Please follow this next bit carefully. This means we were staying with Jane's Mum's Cousin's Son's Wife's Mum and Dad. Got it? Me neither. We spent some time deliberating over which red wine would be a suitable exchange for a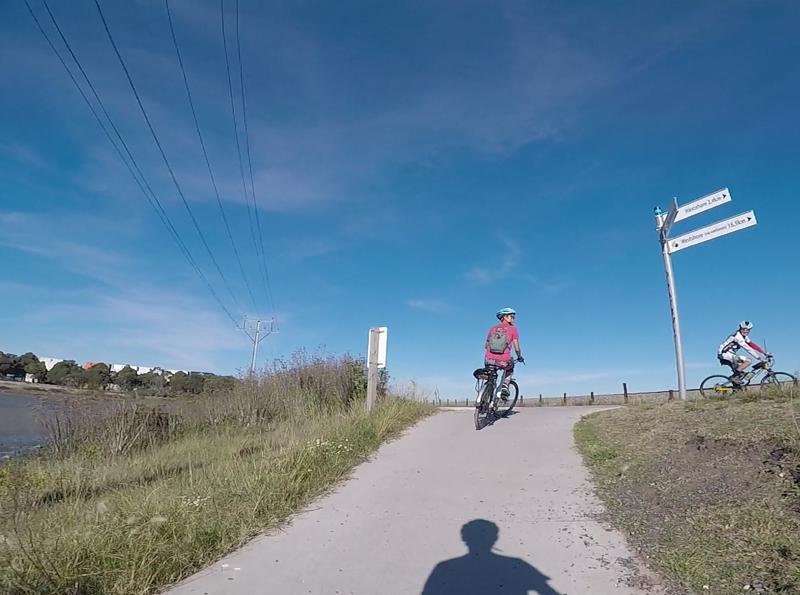 good night's sleep (in a real house!). This is a particularly difficult task in a region of a thousand wineries. The words "I guess they're all pretty good" may have been uttered. If you're reading this Karyn and Trevor, thank you for a lovely stay and apologies for accidentally bringing wine from Marlborough!

After an evening of fast-paced chat, we headed to bed, ready for a cycle-tour of the city in the morning. Trevor (Rose's Dad) had sourced us some bikes from various relatives. I had a very swanky hybrid, whilst Jane got to sample the joys of an e-bike. Within seconds it was clear that she was going to have a great time - I sprinted to get in front and she immediately retaliated with zero pedaling whatsoever. Unbelievable!

The coastal cycling in Napier is fantastic - there are plenty of routes to get stuck into, taking you from vineyards to the port and back again. We did a 47k loop then went for a hard-earned pie. Please don't use this information against me, but if anyone ever needs me to do anything for any reason - give me a pie and I'll probably do it.