Nassau, Bahamas, 20.11.2019
Ordering room service breakfast was a challenge again. It came 15 minutes after the requested window. What made it worse is that the form is confusing when it comes to ordering pancakes. Apparently I had to specify plain AND maple syrup. It doesn't make sense to me and there are no instructions to indicate that.

After breakfast, I went to explore a few more areas of the ship and take pictures of downtown Nassau and Atlantis. Then I relaxed in the Solarium for 30 minutes. I saw the room steward both as I left for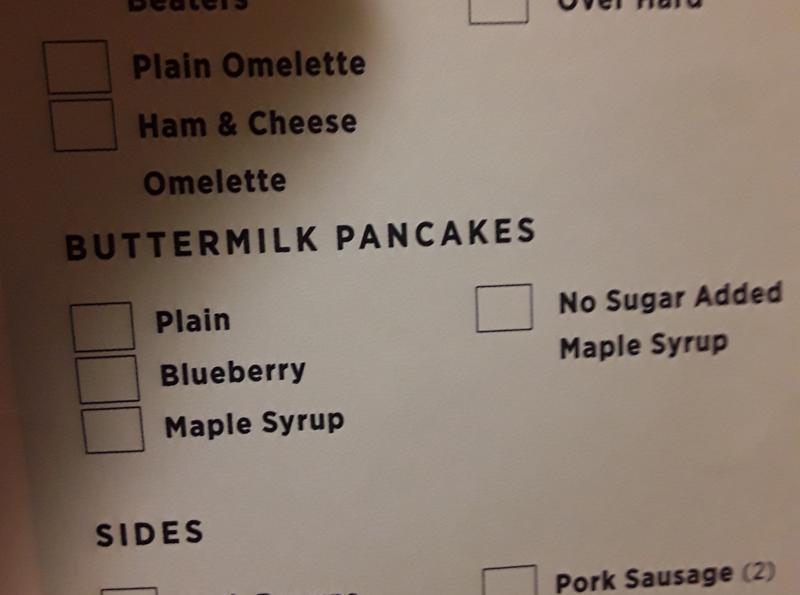 exploring and came back. He never did the procedural introduction of himself because he has never caught me just sitting in the room. And that's the way I wanted it.

Once I came back from my excursion, I laid in bed for a couple of hours but didn't fall asleep. Then I got dressed up and went to my 8pm dinner reservation in the main dining room. Before that, I finally got up to the helipad and took pictures. It was dark in downtown. I think the only thing open is the bars, and this is shortly before 8pm. Thankfully, I didn't get lured by someone from the excursion to be out & about until the ship was about to leave.

On Mariner, they have one dining room. Deck 3 is for any time dining, which I did. Decks 4 & 5 are for traditional dining. The table I got was positioned in such a way to make it not really conducive to talk to your neighbor table, because the closest table to me was a round table. They must have read my mind because I didn't want to be bothered and wasn't bothered. This is my only meal there. When my server came, she was about to tell me the recommended items. I stopped her before she went into her spiel and told her I already knew what I wanted. She asked if I looked at the menu ahead of time, and I said yes.

I did notice an older gentleman alone at a table not too far away, with a couple sitting at a table for 2 next to him. I didn't see them converse, even though they appear to be in the same age range. This is the difference between what a solo male will encounter and a solo woman. The solo woman will get invited into conversation every time. Whereas it won't happen for the solo man. That's why I had the rule, which I broke earlier today. Read the other day 3 chapter for how that happened. The only reason I noticed this lack of dynamic was when the photographer came around asking to take pictures of people, the solo gentleman agreed to it. I didn't and wouldn't have.

Everybody did a good job of being on time, because the ship left 5 minutes early. The wait staff sang an Italian song and a few of them danced to Gangnam Style with the Maitre D. This happened at 9pm, when the dining room closes. My server didn't do it because a family came super late and she was getting them their meal when all the singing was happening. There was really no conversation at the end of the night between myself and the server, which is perfectly good with me.

The rest of this night was spent listening to a 90s music mix in the promenade for about 15 minutes, scanning the store for souvenirs, and watching karaoke.