Aboard Mariner of the Seas, 18.11.2019
Before we were dismissed from the muster drill, the captain announced that days 2 & 4 of the cruise were going to be flip-flopped due to a forecast of high winds. This meant that we were going to the private island of Cococay tomorrow instead of the last day. The last day would be the only sea day. So instead of a leisurely sail, we had to book it hard in order to get to Cococay on time. With sunset being shortly after 5:30pm, everyone had to be back on board by 5pm. The day would start at 8am for us, meaning the ship had to be there about 6am to offload all the supplies. By going considerably faster the first night, it was a noticeable swaying throughout the night.

I waited for everyone to clear out and for the ship to pull away from the dock before leaving deck 4. From there, I went to the Sailaway party on deck 11. As I was trying to find someplace to stand so that I could look down upon those who wanted to line dance, I saw a woman who appeared to be in her 40s or 50s wearing a Purdue t-shirt while walking in the opposite direction. As tempting as it was to ask her if she went there or was the parent of a current student, I elected to not say anything and keep on walking. I bring this up because I'm a Purdue alum. It has been my experience that if someone sees me in public wearing a Purdue t-shirt, half of the time they didn't go there. They admire that I went there, though, or know someone who did go there. I purposely did not bring those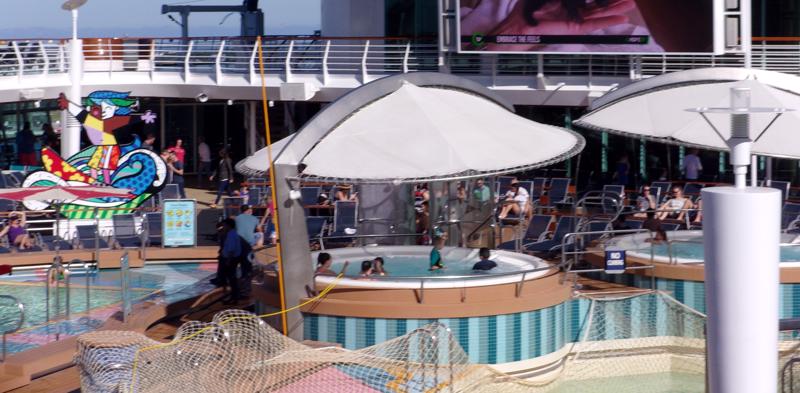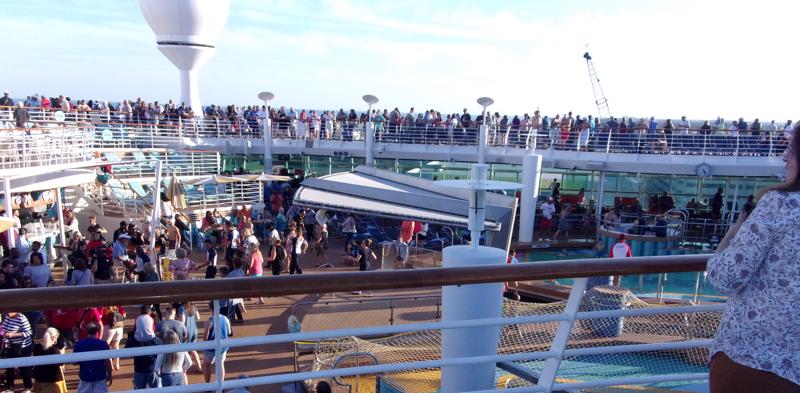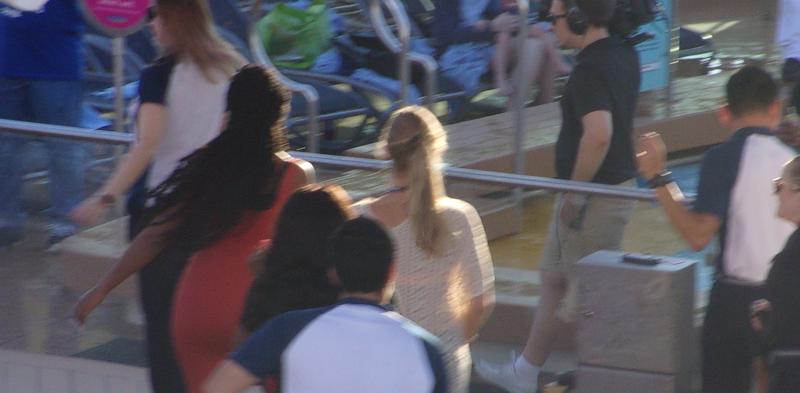 "conversation starter" articles of clothing on this cruise.

Now, I'm going to reveal something that I've only told to one person, and that is the person who invited me to join her on a cruise 2 years ago. As I'm exploring the ship and hanging out at the sailaway party, I count the number of traveling parties who wear a custom t-shirt. Examples of these custom t-shirts are family reunion shirts, family cruise shirts, milestone birthday or anniversary shirts, or a shirt with a cruise saying such as Oh Ship! I counted 7 traveling parties with such a shirt. The first one I saw was in Spanish by a Hispanic family to acknowledge someone's birthday. I saw a wedding party t-shirt, as there was a wedding on the ship that day. The highlight of the sailaway party was at the end, when a couple from the Hispanic group got engaged on the stage. The rest of the sailaway party was more livelier than what I saw on Carnival 2 years ago. One big difference was that the Activities Manager led the sailaway party instead of the cruise director.

I had made a reservation months ago to have dinner at Chops Grille. One of my great concerns for any dinner was the passengers sitting near me trying to engage me in conversation. I lucked out on this night, and throughout the cruise. When I got seated, the table to my left was empty, as it's a table for 4. There was a couple to my right, but they were engaged in conversation with the couple to their right.
What I'm about to say next could cause cruise fanatics to not like me. Just as I walked out of my cabin to head to my reservation, the room steward was approaching my door. I said hello, said I had a dinner reservation and pointed to my wrist to signify that I needed to be somewhere. To be honest, I was hoping to avoid the room steward during the entirety of the cruise because I didn't have any special needs, I wasn't going to request anything. I just wanted the person to do their job. I know that some cruisers will be effusive in showing love to their room steward whenever they are on a cruise. That's not me! But I won't treat them like the hired help either.

Because the CocoCay day was switched to tomorrow, I had to change my approach to how I was going to spend the rest of the evening. The highlighted event on this ship is the ice show, but I was definitely not doing that. I didn't want to go to the Welcome Aboard show because I did that on my last cruise, and my goal was to do totally different activities on this cruise to expand what I get to experience. Visiting the transformed CocoCay was the #1 reason why I chose this itinerary, and I wanted to have a good night's sleep so that I can be well rested, fully there, and experience all that I want while on the island. So I didn't do anything after dinner. I went to my room and watched the first half of the football game, then went to bed early. This meant I skipped the 70s party on the Promenade.