Port Canaveral, FL, 18.11.2019
After checking out of the Disney All Star Music resort, where I stayed for 1 night, I needed to get a couple more items before leaving. I drove to the International Drive area and bought a set of 3 packing cubes from Bed Bath & Beyond for my dress clothes, and some cough drops from Walgreens just in case. I hit the road just after 12 noon.

One of the things I looked forward to the most was the drive over because I could listen to my favorite music. Get me excited for the adventure that awaits. I listened to Prince on the way over, and Madonna on the return trip. The drive from the Convention Center exit to the cruise terminal took a little over an hour. It was more expensive than I would have liked due to the tolls. I reduced my tolls on the way back by exiting at the airport and taking an alternate route. My goal was to arrive at the terminal around 1pm, so that by the time I complete the security check and check-in, I can go straight to my room. I had to pay up front when I got to the parking deck, and the only spaces were at the top level. This is because the megaship Harmony of the Seas leaves on the weekends, and their passengers get all the good spaces. If I would have done this same cruise in May, I would've used one of the off-site lots because if my car is going to be sitting in the hot sun for days, I wouldn't want to pay full price. There was another reason why I elected to use the terminal parking, but I'll get to that in the final chapter. Did not encounter any traffic.

The walk from the car, the security and check-in process took about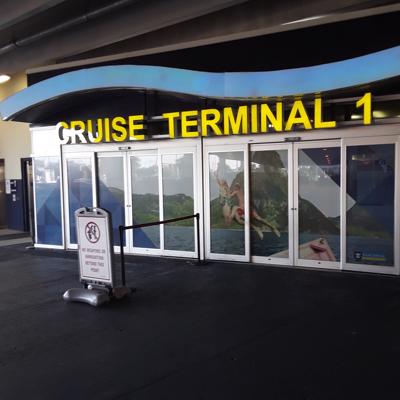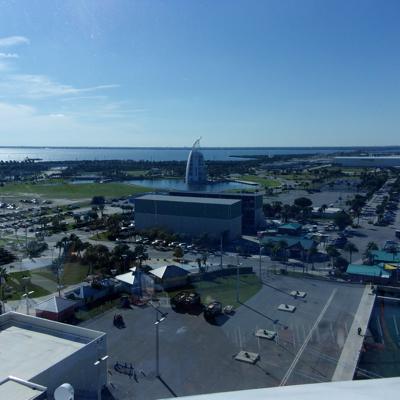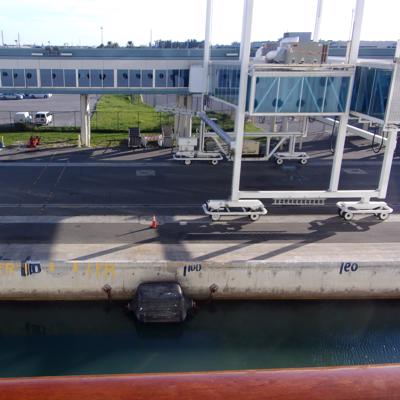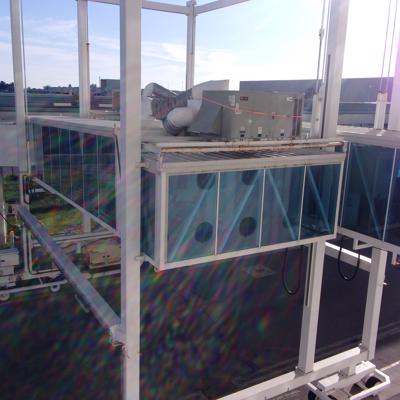 15-20 minutes. I took a few pictures from the parking deck, as well as some before stepping on the gangway. No lines to deal with during this. I had the gangway relatively to myself, as there was a sizable distance between myself and the party in front of me, as well as the party behind me. The room was ready when I got on at about 1:30pm. My strategy worked perfectly!

After dropping off my backpack and checking the room real quick, I went to find the room that I originally booked, a studio cabin, on deck 2. It was very difficult to find. To get to it, you have to walk past a receptionist's desk, but there's no receptionist. So it felt like I was going somewhere I wasn't supposed to be. When I finally got there, it looked like part of a hospital ward. White paint on the walls, a small square with 4 doors corresponding to the cabins. Perhaps it was for the best that I upgraded to a Promenade Interior. I had a view of Guest Services from my new cabin on deck 7. I received an email two weeks before from Royal Caribbean offering me the opportunity to bid on an upgrade.

Next, I wanted to go to the helipad to take a selfie, but access was blocked off. So on to the next item I wanted to explore. It's officially called the Peek-a-boo bridge. It is an area where passengers can observe what is happening in the bridge. I took my selfies from there. I explored as much as I could until returning to the room at 2:50pm. The only traffic I experienced was a bunch of people trying to retrieve their luggage before muster drill. I found mine, but had to leave it outside as my room had been marked as evacuated.

Muster drill turned out to be a negative experience. I couldn't find the person who scans people in, so I went and lined up in the box on the side of the ship on deck 4. I stood there stoicly, not looking at anybody. Then they called my name and 3 other parties as being missing. One party was the last to arrive and didn't check in, the other parties were there all along and apparently couldn't find the right person either.