At Travel Diaries, which offers a free software to make your own book, you work in a real book on your screen, on your computer, tablet or smartphone. Fill your book with as many texts, photos and illustrations as you want, and choose a style. You can also easily design the cover of your own book. When your book is completely finished, you can order it at the touch of a button as a beautifully printed book with a softcover or hardcover.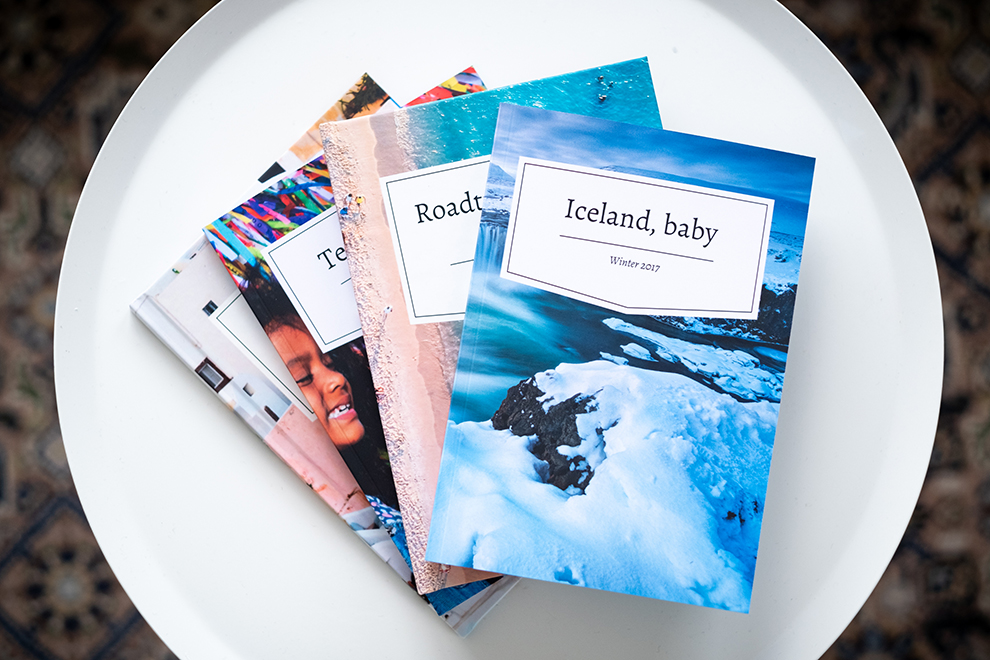 Write a book
Step one in making a book is of course coming up with a story. Perhaps you will write a romantic book à la Nicolas Sparks, or an exciting thriller à la Nicci French. You can also write a non-fiction book with your life story or maybe one of a family member. For example, capture your pregnancy and the first year of your child in a pregnancy diary or baby book. The Travel Diaries book software is also very suitable for writing an informative book, because there is a lot of space for illustrations and images. For example, share travel tips in the form of a travel diary or tasty recipes in a recipe book.
Book writing app: download it for free
With the Travel Diaries book software - once started as a travel diary tool - you can work on your stories wherever you are, both in the online editor for computers and tablets and via the app for iOS and Android. The app and web editor are connected, so you can always view and edit your books on any device, and you can switch at any time. For example, you can quickly develop your ideas in the mobile app while on the road, and further develop them later in the web editor behind your computer.
Design your own book
Creating and designing a book is easier than ever in our book software where you work in a real book on your screen, which you can fill and organize according to your own wishes. You decide how many text and photos are included in the book. You can fill the entire book with text, but you can also make a coffee table book by filling most of the book with beautiful photos. You can choose from more than fifty different layouts. You also determine the font and font size, for both the titles and the main text. If desired, you can give your titles a nice color and set the display of place and date. Then click "save" to apply your curated style to the entire book. Optionally, add maps to your own book and choose a cover photo, so your book is ready to go to the printer.
Publish your own book
Have you filled between 40 and 320 pages with your story and is the layout completely according to your wishes? Then you can publish your book by having it printed with a hard or soft cover. Prices start at €35.85 for a softcover book from 40 pages. To get the feel of a real book, like in the bookstore, have your book printed with hardcover. Do you want multiple copies or larger quantities? You will receive a substantial percentage discount on every additional copy of the same book that you order.
The production time is a maximum of 2 working days for soft covers and 4 working days for hard covers. The shipping time depends on where the order has to be delivered. Within the Netherlands, the mail is often delivered within 1 to 2 working days. You will have your book(s) in your hands very soon after ordering. Then it's time to hand out your book to friends and family, and sell it to other interested parties. Is your first edition completely sold out? Because your book is safely stored in the software, you can quickly order new copies. For €5.95 you will also receive a PDF file of your book, which you can send as an e-book, for example.
Create your own book in a few simple steps
As a writer you naturally want to focus on the content of your book, which is why we have made the design process of your book as easy as possible. Let's summarize the simple steps for creating your book:
Make up a storyline.
Create a Travel Diaries account and come up with a (work) title for your book in the online software or the Travel Diaries app for Android and iOS. You can always change your title later.
Write your story in the software. You can always add extra pages and switch chapters around, so you don't have to start with the beginning of your story. Your stories are stored in the cloud, so you never lose work.
Fill your book, if desired, with photos, illustrations and maps. Choose from fifty different layouts which layout you like best for your book.
Think of titles for your chapters, and choose the font, text size and text color that matches your book. It is possible to add a place and location below your title if you wish.
Choose the font and text size for the body text of your story.
Upload a cover image for your book and check that the (working) title and subtitle of your book are correct.
Share the online version of your book as a blog with proofreaders to make sure your story is perfect.
Process the feedback from your proofreaders in the software and check the entire book for minor flaws.
Have your book printed with a hard or soft cover and order as many copies as you need. Congratulations!