Southeast of Iceland, 26.01.2019
Dear readers,

In this blog I am going to write about my road trip from last weekend. With four of my friends we drove all the way to the east of Iceland. We left at 8 o'clock in the morning and it was about a 5 hours drive to the furthest point (Diamond beach). On the way to this beach we made a stop at the Fjaðrárgljúfur Canyon. I was traveling with some geologist students so they wanted to check out some (basalt) rocks. I had never heard of this kind of rock formation but they were all going pretty crazy about it so I was curious what they would look like.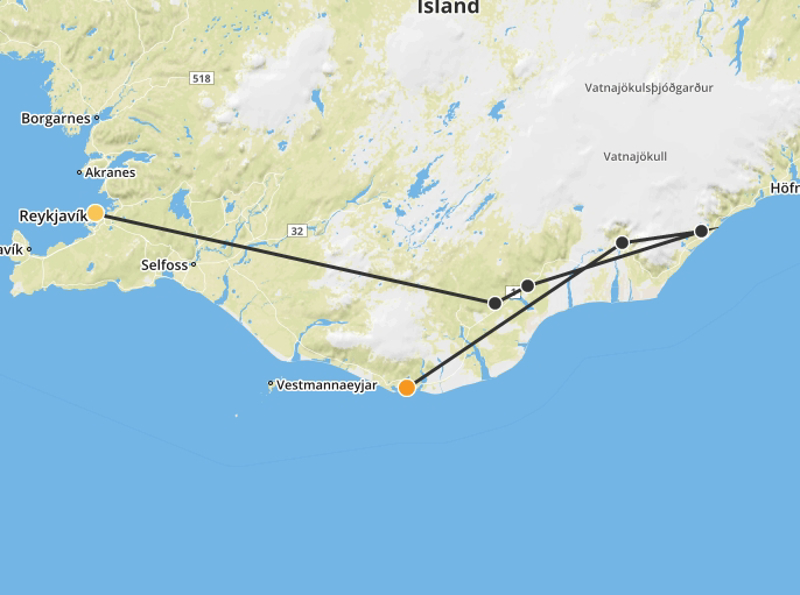 The Fjaðrárgljúfur canyon is an impressive place and there are also some waterfalls at this site. What made it even more special is that you could also walk along the ridge of the canyon. It's amazing to think that water created this canyon by eroding away the rocks. Iceland is a very good place to see the influences nature can have on the formation of the land.

After this stop we went to Dverghamrar. This place is also famous for the hexagonal columns of basalt. According to folklore, the inside of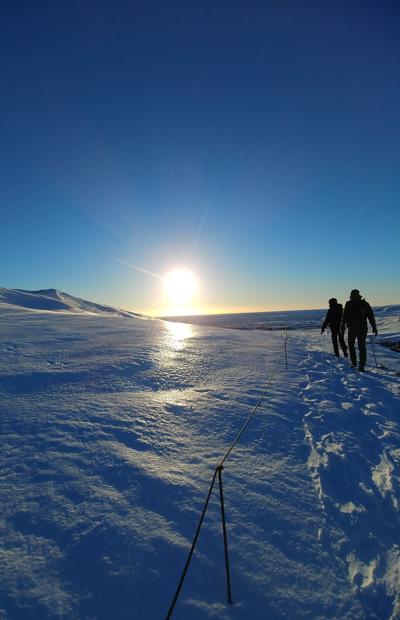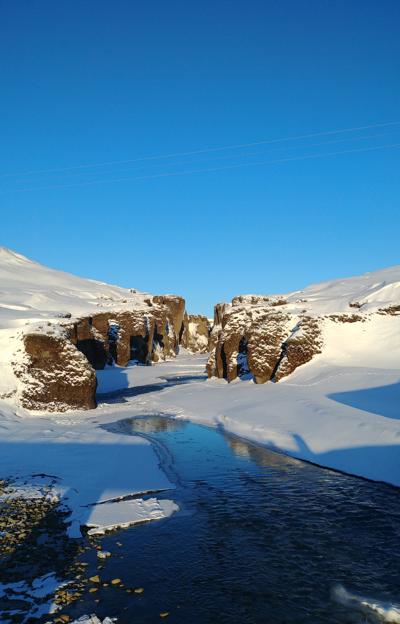 the cliffs are home to both dwarfs and elves. We had fun climbing on top of the rock formation and we were also really lucky with the weather: the sun came out and it was shining very bright. Altough the sun was shining, it didn't really make difference to the feeling of the temperature. It still felt very cold (below freezing point).

By now, Emilie and I (the only girls) were getting very excited for the next stop: Diamond Beach. (Diamonds are a girl's best friend, right?). It has been a dream of mine to come here since I knew this place existed and I didn't think I would be able to go here after only living here for a month. When we arrived, I felt so happy being there, this place is just out of this world. It is called Diamond Beach because there are large ice blocks spread all over the (black) beach. I am not sure how they get there but I think it's due to the Glacier Lagoon which is right around the corner from this place. It was a sunny day, which made the ice blocks reflect the sunlight, making it an even more stunning site. We walked around for a while and after spending about 45 minutes at this beach we decided to move on to the next stop (we had a busy schedule, haha).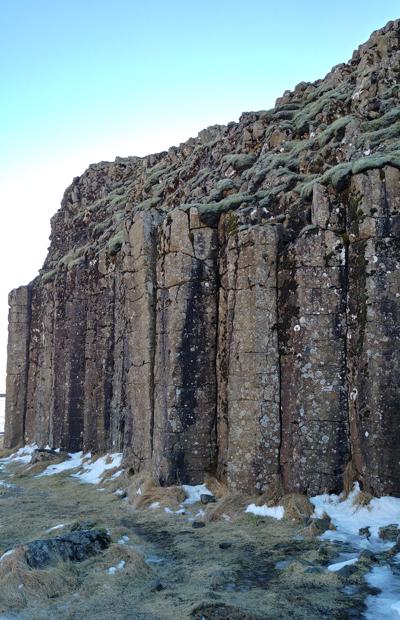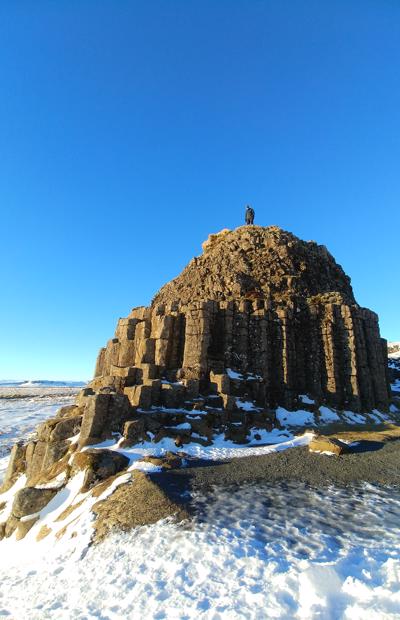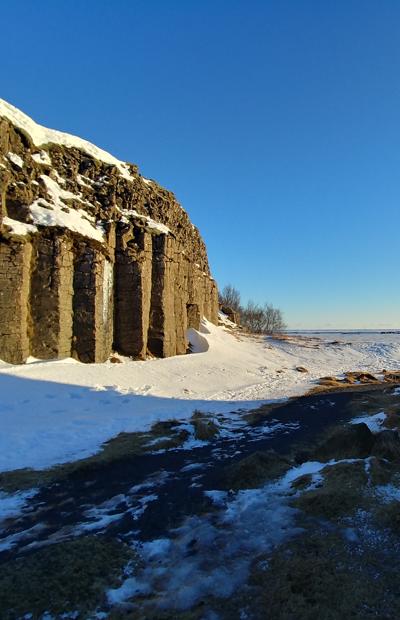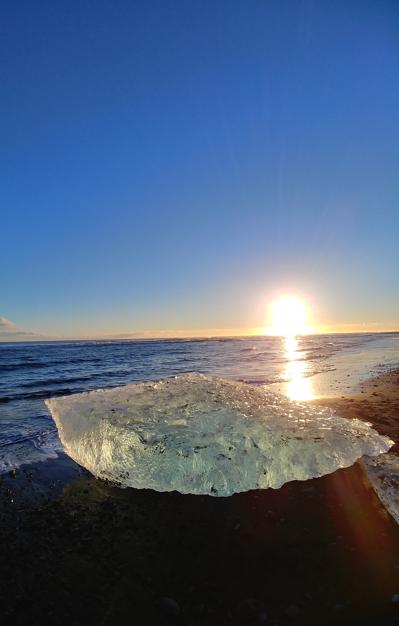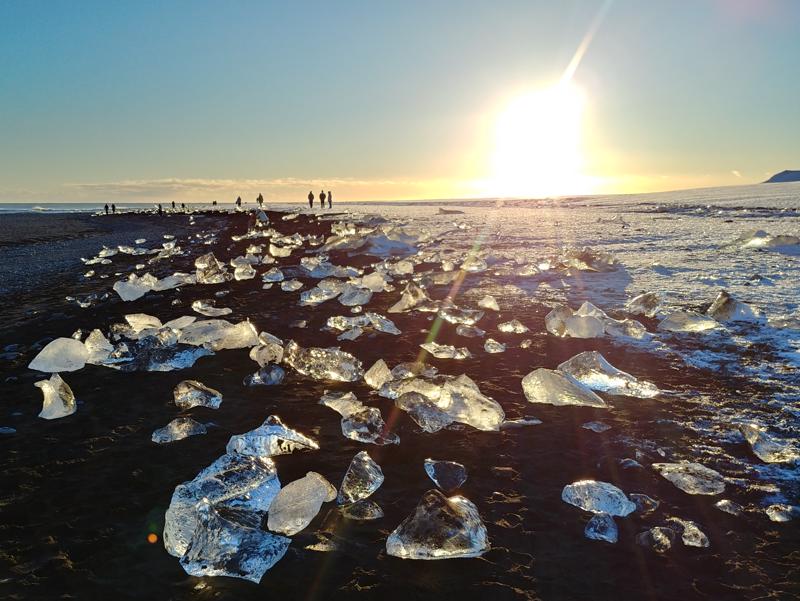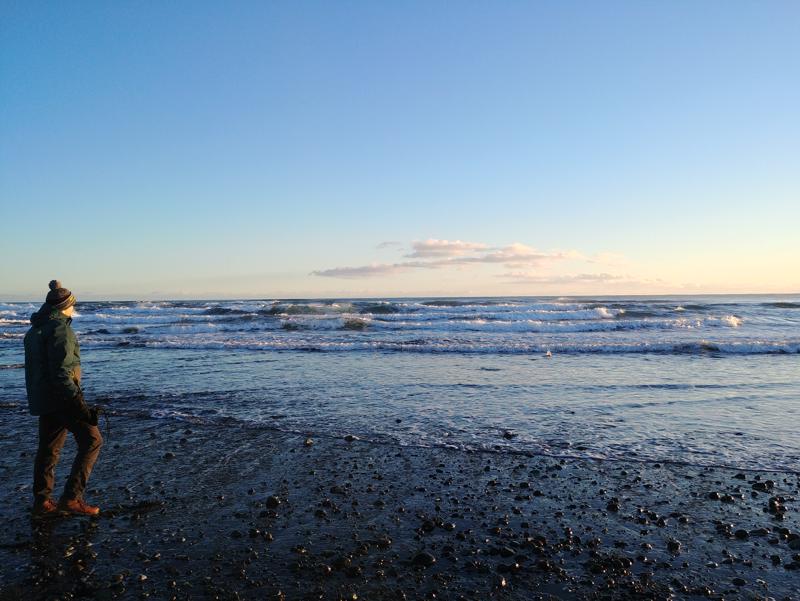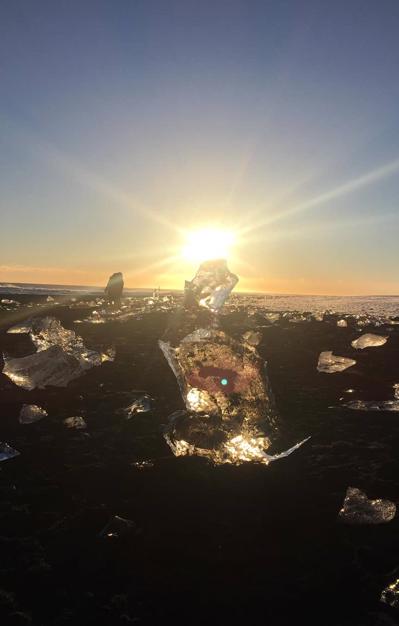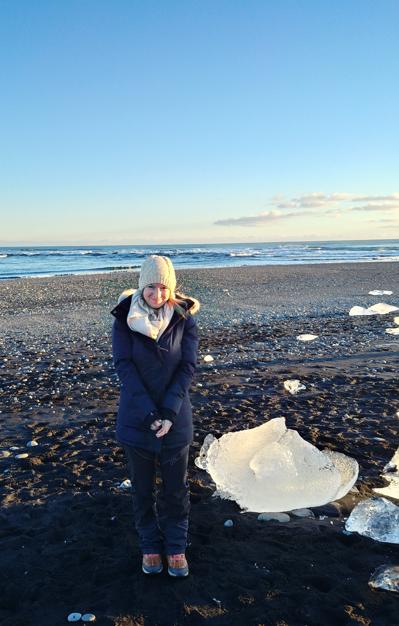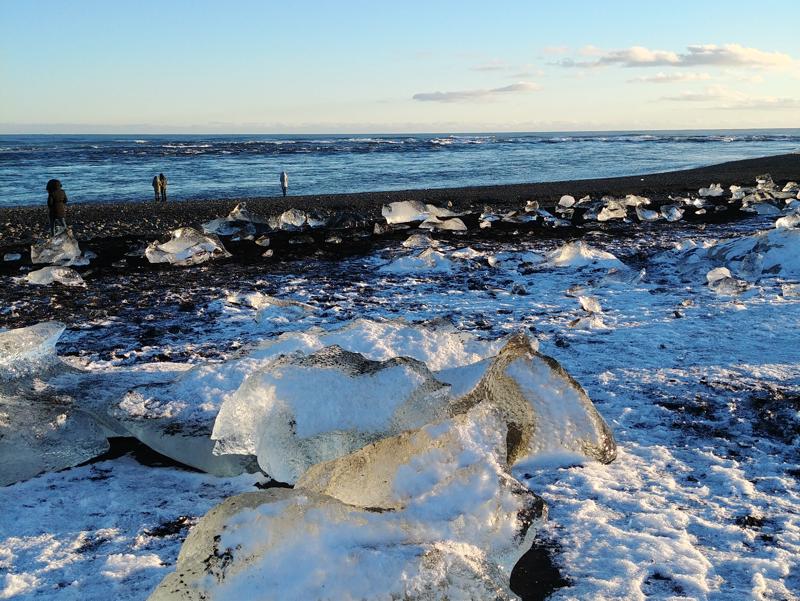 The next stop was the large glacial lake called Jökulsárlón. I hadn't done much research on this place but it was actually even more stunning than the Diamond Beach. It actually felt like being in a National Geographic movie about the (Ant)arctics. I had also never seen anyhing like this before. Huge blocks of snowy ice (up to 10 meters) were drifting in the icy water. Some of them had a light blue colour which was just beautiful to see. Although this place was pretty touristy, it was still one of the most amazing things I've ever seen. There where also some tours which you could do (which are incredibly expensive) like: jeep tours, exploring ice caves and glacier hikes. I think this would be pretty awesome to do though so I will think about it, haha.

It had been quite a long day and it was also starting to get dark, but we still had one place we absolutely needed to visit: Svartifoss. This waterfall is situated in Skaftafell, which belongs to Vatnajökull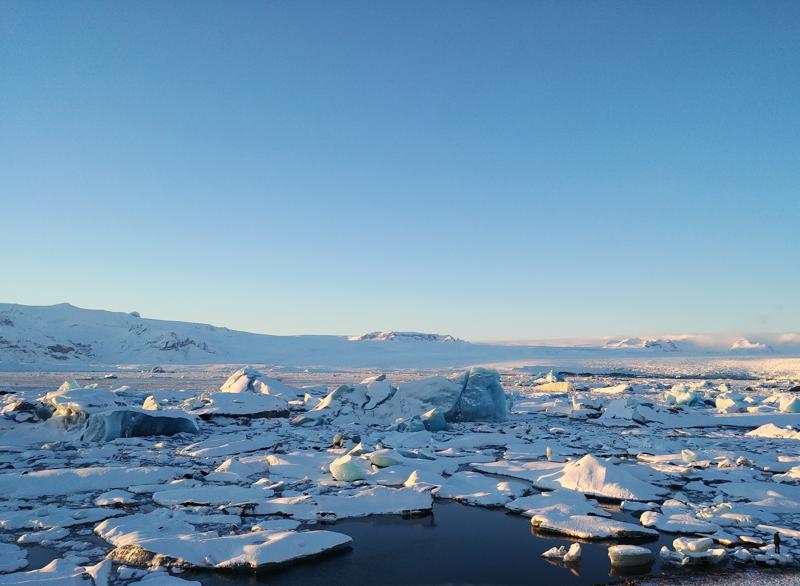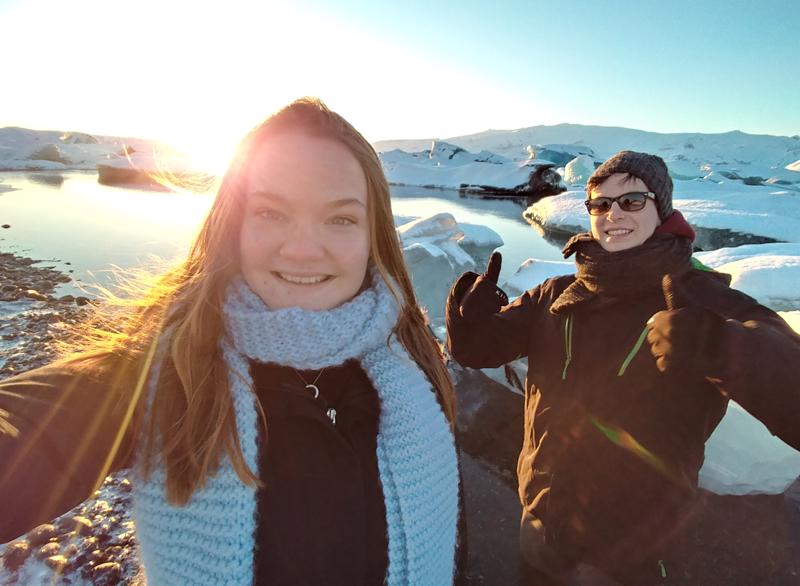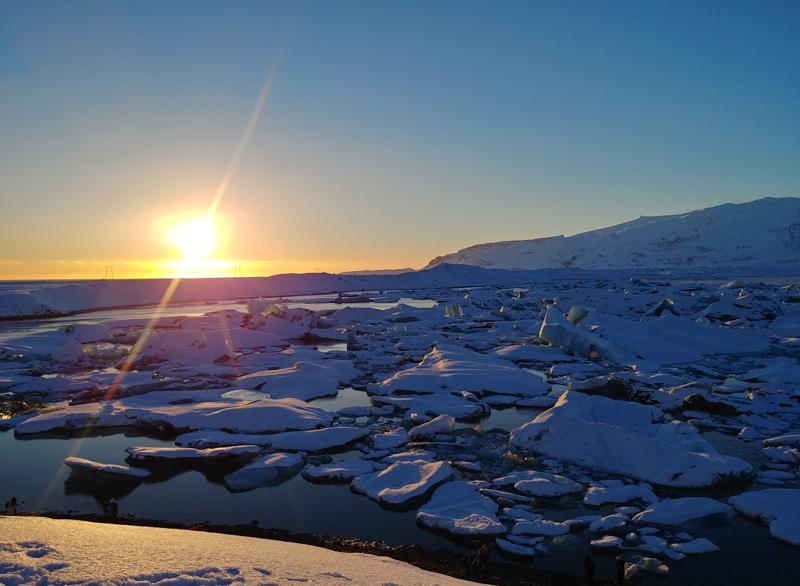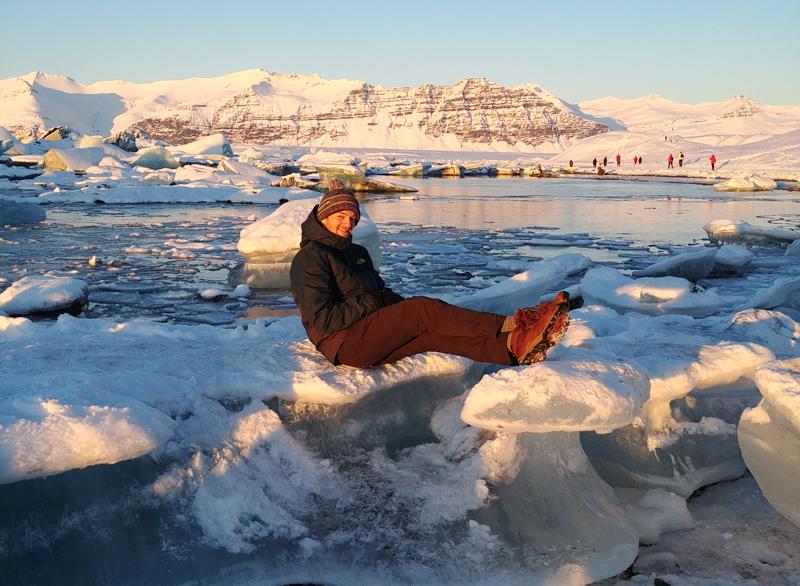 National park. Svartifoss is such an impressive waterfall. It is 20 metres tall, and black columnar basalt formations beautifully frame the waterfall and give it its name, Black Fall. To reach this place from the entrance of the national park, you have to walk about 1.5 kilometres and when you get there, you can walk straight down to Svartifoss to see it up-close. I didn't know it was going to be as impressive as it was, I really want to come back to this place when it's later and I have more time. It was incredible to see these rock formations around this waterfall. Also, because we were there in the winter, there were a lot of icicles hanging from the rocks, giving it a mysterious, magical and special look.

It was time to go to our hostel, which was still a 2 hour drive away. We stayed at the Puffin Hostel in Vík which was the cheapest in the area. The hostel had a good location and the facilities were fine with some shared showers, toilets and a kitchen. After cooking some dinner (the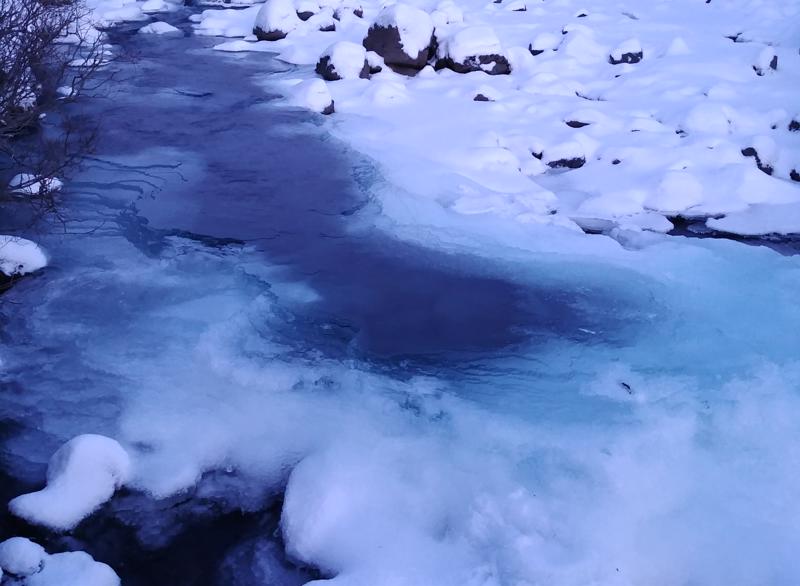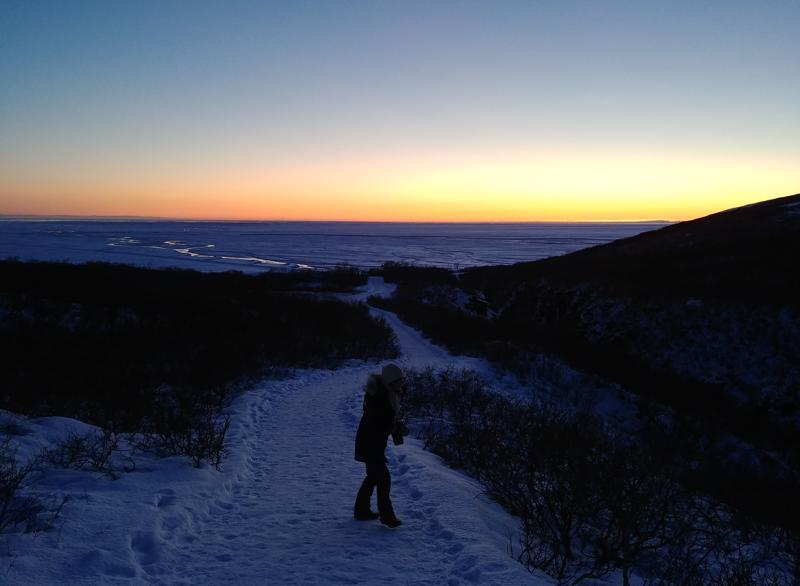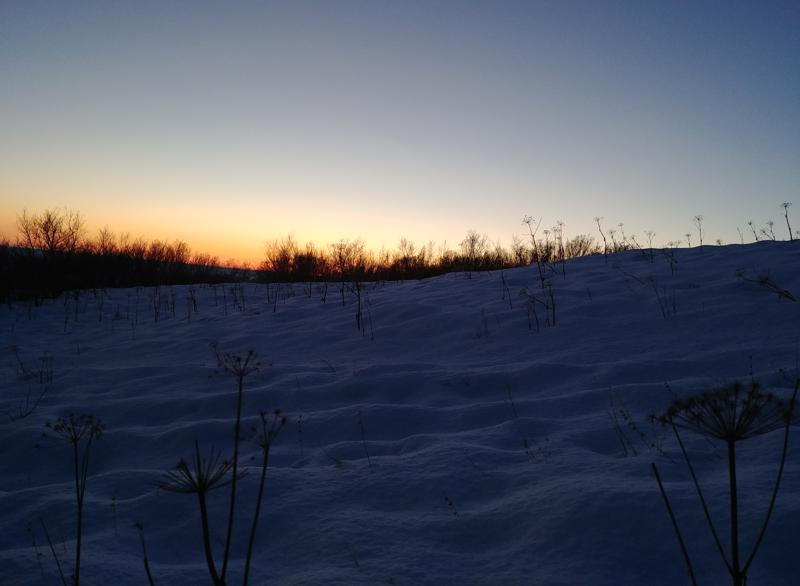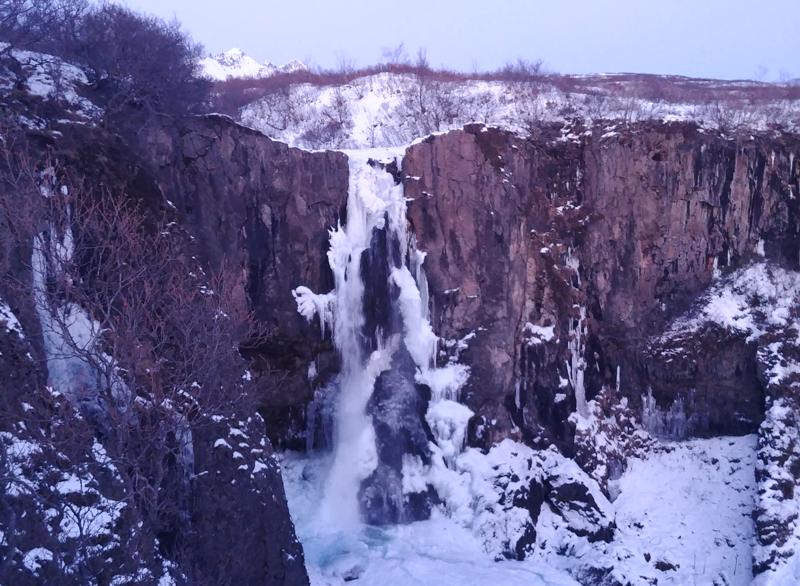 usual: pasta with tomato sauce), we played some card (drinking) games. I had brought some Icelandic schnapps called 'Brennivín', that is considered to be Iceland's signature distilled beverage. It tasted absolutely horrible and we used this Schnapps as a punishment (if you lost the game). I wasn't very good at the game so I drank a little more than I had planned to. I definitely noticed this the next morning, as I woke up a bit dizzy, but that didn't spoil the fun of the second road trip day! I will write about that one in the next blog.

Oh by the way, I forgot to write this but we spontaneously decided to take the car for a little ride to spot the northern lights. And we did see them! It wasn't super bright but we saw them so that was awesome!

Love,

Camille